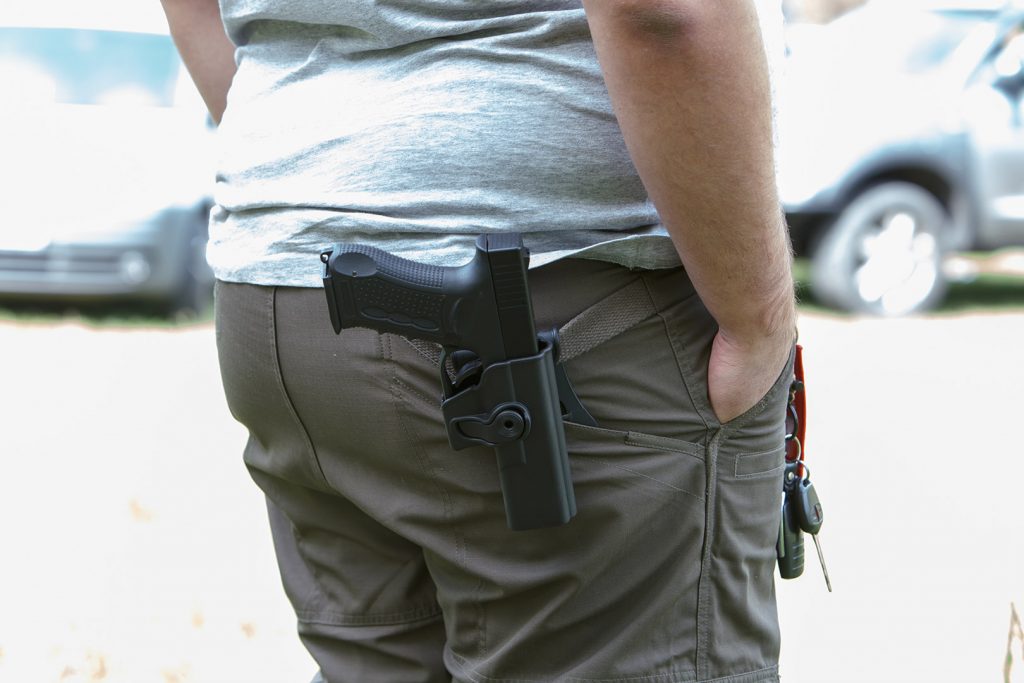 Does the right to own a gun for self-defense also include the right to openly carry that gun in public? Yes, according to a recent ruling by a federal appeals court. The reversal of an earlier decision in Young v Hawaii has broader implications for where guns are allowed – and whether or not more people might suddenly be openly carrying firearms.
George Young's Quest to Carry a Handgun in Hawaii
The court case originated with Hawaiian resident George Young, who wanted a permit to carry a handgun. At the time, Hawaii was one of 15 states which required a permit for concealed carry. George applied for a concealed carry permit twice and was denied each time.
Both denials had nothing to do with George personally. He had no felony convictions or other circumstances which would typically disqualify his request. Instead, by just about any objective measure, Hawaii has some of the most restrictive concealed carry rules in the nation.
Generally, the state of Hawaii only allows guns to be kept in a person's home or office. In order to get a concealed carry permit, the resident must prove they have a "reason to fear injury" to their property or person. Permits must be issued by the local police chief, who will only do so in "exceptional cases." Hawaii County, where Young lived and had applied for permits, had issued only four concealed licenses in the past 18 years. The rest of the state had similar issuing rates, with most permits going towards security guards and similar professionals.
Young v Hawaii
Young first filed a federal lawsuit in 2009, arguing the state's carry permit requirements violated his Second Amendment rights. Unfortunately for Young, his motion was dismissed. Presiding U.S. District Judge Helen Gillmor wrote Hawaii's law "does not implicate activity protected by the Second Amendment." Additionally, the court said the Second Amendment "establishes only a narrow individual right to keep an operable handgun at home for self-defense."   
Young appealed to the United States Court of Appeals for the Ninth Circuit. On July 24, the Court reversed the original ruling in favor of Young. Judge Diarmuid O'Scannlain wrote the ruling and was joined by Judge Sandra Ikuta, with Judge Richard Clifton dissenting.
O'Scannlain's opinion focuses on the exact language of the Second Amendment, which guarantees the right to keep and bear arms, implying "some level of public carry in case of confrontation." They found the earlier decision placed more emphasis on bearing arms than keeping them.   
The 9th U.S. Circuit Court of Appeals and the 2nd Amendment
The 9th's ruling was particularly interesting due to the court's previous related rulings. Notably, in 2016 the 9th ruled in Peruta v San Diego that "the Second Amendment does not preserve or protect a right of a member of the general public to carry concealed firearms in public."
So, what do these rulings mean when taken all together? Basically, the court is saying that states and cities can constitutionally ban concealed carry, but banning open carry is unconstitutional.
O'Scannlain went on to discuss two relevant Supreme Court decisions. In District of Columbia v. Heller, the court ruled individuals have the right to possess a firearm for traditionally lawful purposes such as home defense. Then, in McDonald v. City of Chicago, the court ruled an individual's right to keep and bear arms applies to states through the 14th Amendment's Due Process Clause.
In both cases, the court discussed how owning a gun for self-defense was especially valid inside the home. According to O'Scannlain, this implies "that the right exists, perhaps less acutely, outside the home."
Traditional Legal Interpretations Meet Modern-Day Attitudes
Interestingly, allowing open carry while barring concealed carry is a legal tradition which dates back to the 19th Century. But society had wildly different attitudes towards open carry back then. Today, a visible firearm in a public place will often cause concern and even outright alarm.
"We do not take lightly the problem of gun violence," wrote O'Scannlain. "But, for better or for worse, the Second Amendment does protect a right to carry a firearm in public for self-defense."
The state of Hawaii wanted to limit concealed carry permits, but more guns may be allowed in public than ever before. While this isn't the outcome the state wanted, it's also not unexpected. Basically, any state or local level change to gun access results in a court battle, and the results aren't always easy to predict.
Aside from the District of Columbia and Chicago cases, the nation's highest court has appeared reluctant to take on gun ownership bans. But sooner or later they'll likely have to weigh in on the issue of public carry.
Do limitations on the open carrying of firearms affect the core of the Second Amendment? Will more people start carrying guns openly in public – and will that increase or decrease public safety? Legal issues related to gun control certainly aren't going away anytime soon, but they might just become a lot more visible.