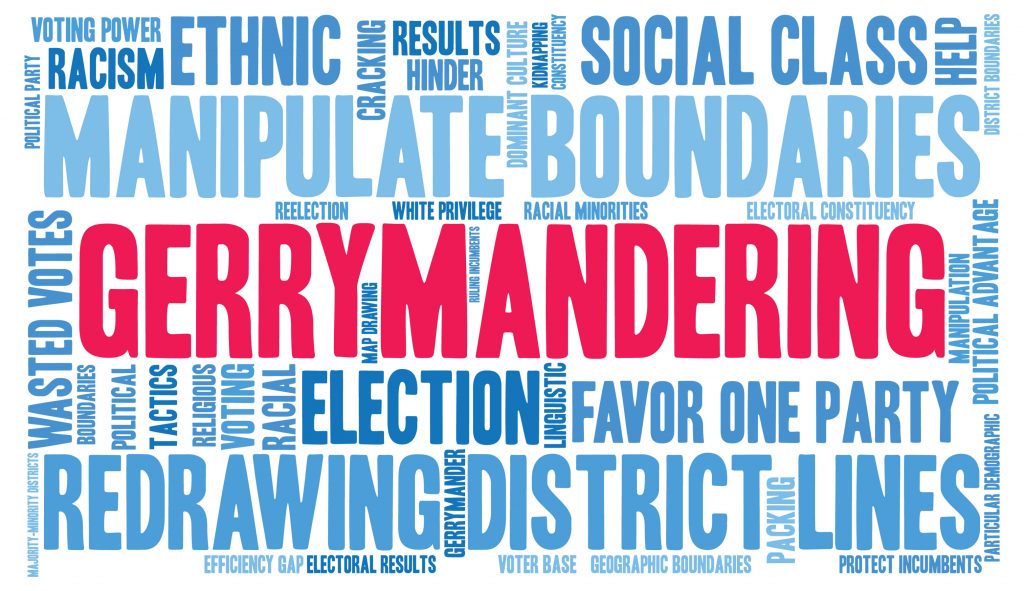 Chief Justice John Robert's 5-4 majority gerrymandering ruling is a key victory for Republicans, who rigged the nation's votes in their favor in 2011, costing Democrats the 2016 election as well as the 2018 midterms in Wisconsin and are preparing to more heavily gerrymander the nation during the next round of redistricting in 2021.
Roberts acknowledged that "unfair maps are an issue, but they have to be addressed at the ballot box and in state courts, as the "Constitution does not ban extreme gerrymandering."
The Court consolidated two cases: Rucho v. Common Cause and Lamone v. Benisek.
Rucho involved a district map in North Carolina drawn by Republicans to suppress Democratic votes and Lamone considered a map drawn in Maryland, drawn by Democrats to minimize Republican representation.
"Our conclusion does not condone excessive partisan gerrymandering, "Roberts writes.
"Nor does our conclusion condemn complaints about districting to echo into a void. The States, for example, are actively addressing the issue on a number of fronts.
"In 2015, the Supreme Court of Florida struck down that State's congressional Constitution. The dissent wonders why we can't do the same.
"The answer is that there is no 'Fair Districts Amendment' to the Federal Constitution," Roberts writes in his consistently well-crafted commentary.
"The Framers also gave Congress the power to do something about partisan gerrymandering in the Elections Clause. The avenue for reform established by the Framers, and used by Congress in the past remains open.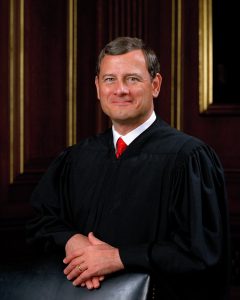 A Crabbed View
"No one can accuse this Court of having a crabbed view of the reach of its competence," the Chief Justice held.
"But we have no commission to allocate political power and influence in the absence of a constitutional directive or legal standards to guide us in the service of such authority."
"The drafters of the Constitution understood that politics would play a role in drawing election districts when they gave the task to state legislatures.
"Judges are not entitled to second-guess lawmakers' judgments," Roberts concluded, handing the Conservatives a win in what is called the biggest case of the term.
Kagan, Like Ginsberg, Dissents from the Bench
"Of all times to abandon the court's duty to declare the law, this was not the one, "Justice Elena Kagan wrote in an impassioned dissent read from the bench, as is Justice Ruth Bader Ginsberg's custom when she finds a decision particularly egregious.
Ginsberg dissented from the bench in a crucial voting rights decision in 2012, after Roberts held in another of his 5-4 conservative rulings, Shelby v. Holder, that the preclearance certain states needed change or close polls in minority districts under the 1965 Voting Rights Act was no longer needed, and Barack Obama's Presidency was proof of the pudding.
Polling places in minority districts in Georgia closed quickly following the decision.
Kagan stated, "The practices challenged in these cases imperil our system of government," a dissent endorsed by Justices Ruth Bader Ginsberg, Stephen Breyer, and Sonia Sotomayor.
"Part of the court's role in that system is to defend its foundations. None is more important than free and fair elections. With respect but deep sadness, I dissent.
In the North Carolina case, Kagan pointed out, the challengers drew more than 24,000 potential redistricting maps, and 99% showed that the 10-3 configuration was not the natural one.
"It's just not the way anyone can district given the actual political geography on the ground, unless you absolutely try to overrule that political geography," Kagan found.
In North Carolina, Electing Republicans is "Better"
The National Law Journal's Marcia Coyle writes in North Carolina, "a key goal, lawmakers said, was "to maintain the current partisan make up of North Carolina's congressional delegation."
"Electing Republicans is better than electing Democrats," explained David Lewis, a Republican member of the General Assembly's redistricting committee.
"So I drew this map to help foster what I think is better for the country."
"I propose that we draw the maps to give a partisan advantage to 10 Republicans and three Democrats, he said.
"Because I do not believe it's possible to draw a map with 11 Republicans and two Democrats."
"The plan worked," Coyle reported.
"In 2016, Republican congressional candidates won 53 percent to the statewide vote. But, as predicted, they again won in 10 of 13 congressional districts, or 77 percent of them.
"In 2018, the statewide vote was about evenly divided but Democrats again secured only three seats, "Coyle notes.
An Appeal from a Federal District Court in North Carolina
The case was an appeal from a decision in August by a three-judge panel of a Federal District Court in North Carolina. The ruling found that Republican legislators there had violated the Constitution by drawing the districts to hurt the electoral chances of Democratic candidates,'" Coyle writes.
The other case, from Maryland, she writes, was brought by Republican voters, who said Democratic state lawmakers had in 2011 redrawn a district to retaliate against citizens who supported its longtime incumbent, Representative Roscoe G. Bartlett, a Republican. That retaliation, the plaintiffs sad, violated the First Amendment by diluting their voting power.
Bartlett had won his 2010 race by a margin of 28 percentage points. In 2012, he lost to Representative John Delaney, a Democrat, by a 21-point margin.
"Last year, after the Supreme Court returned the case to the United States District Court in Maryland, a three-judge panel of that court ruled for the challengers, barred state officials from conducting father congressional elections using the 2011 maps and ordered them to draw new ones, " Coyle reports.
Justice Anthony Kennedy Addressed Political Gamesmanship
Coyle points out the Supreme Court addressed partisan gerrymandering last term, too, while Justice Anthony Kennedy was still on the Court.
Justice Kennedy, in his questions last term and in a 2004 concurring opinion, left the door open to the possibility that some kinds of political gamesmanship may be too extreme.
"If a state passed an enactment that declared 'all future apportionment shall be drawn so as most to burden Party X's rights to fair and effective representation, though still in accord with one-person, one-vote principles, "Justice Kennedy wrote in 2004, "we would surely conclude the Constitution had been violated."
Eric Holder Sets his Sites on 2021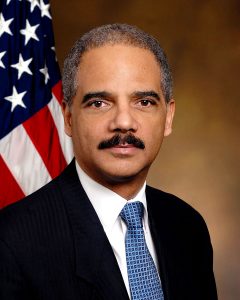 According to Mother Jones' Ari Berman, President Obama's Attorney General, Eric Holder, says while most top Democrats have their eyes on 2020, he has his eyes on the 2021 redistricting process and is knocking on doors in heavily gerrymandered Wisconsin to persuade Democratic voters to retake the state's legislature, whose politicians dictate electoral boundaries.
Holder says the state is so heavily gerrymandered that even with a Blue Wave in the 2018 midterms, the Democrats could not eke out a win.
He compares gerrymandering to voter suppression.
Technology Redefines Redistricting
"As Roberts' notes in his opinion, gerrymandering has been a recurring theme throughout American history, but it has become particularly salient since 2010," writes The Atlantic's David A. Graham.
"That year, he writes, "Republicans performed well in state legislative elections around the country, allowing them to control the once-a-decade redistricting process that followed the 2010 census.
"They quickly set out to take advantage of that power, as did Democrats in states they controlled, using ever more elaborate technological means.
"Many of these projects were very successful, with North Carolina and Maryland serving as poster children," Graham writes.
Packing and Cracking Voters
"Most prominent was the 'efficiency gap,' a measure of how many votes were wasted–either by 'packing' voters of a certain party into a single, nightmarishly drawn district in order to quarantine them with a single representative or by 'cracking' them along several districts where their power would be diluted.
[Gerrymandering statisticians] "also ran simulations to show how unlikely and unfair the maps and outcomes in states such as North Carolina were under a neutral system," Graham writes.
This approach, he reports, "persuaded, district and appellate judges' rulings that some state maps violated the First Amendment, by penalizing voters' right to speak freely at the ballot box and associate freely with fellow partisans, and the Fourteenth Amendment, by depriving voters of a certain party of equal protection.
"But that momentum screeched to a halt on First Street Northeast on Thursday" [June 27]," Graham concludes,
The Roberts Five: A Crisis of Credibility
Delaware Senator Sheldon Whitehouse summed up the Roberts Court's 2018-2019 term in the National Law Journal during a February Senate Judiciary Committee hearing, now that that Trump's handpicked Justice Brett Kavanaugh replaced Justice Anthony Kennedy's swing vote after being confirmed last September.
"As former U.S. attorney and state attorney general, I have spent my share of time in the courtroom before state and federal judges whose commitment to neutral principles and fairness made even losing parties respect their decisions. Whitehouse wrote.
"Today, that confidence is undermined by the Roberts Court's undeniable pattern of political allegiance. Under Roberts, justices appointed by Republican Presidents have, with remarkable consistency, delivered rulings that advantage big corporate and special interests that are, in turn, the political lifeblood of the Republican Party.
"The "Roberts Five" are causing a crisis of credibility that is rippling through the entire judiciary," Senator Whitehouse said in February in what is turning out to be a tragically accurate assessment.