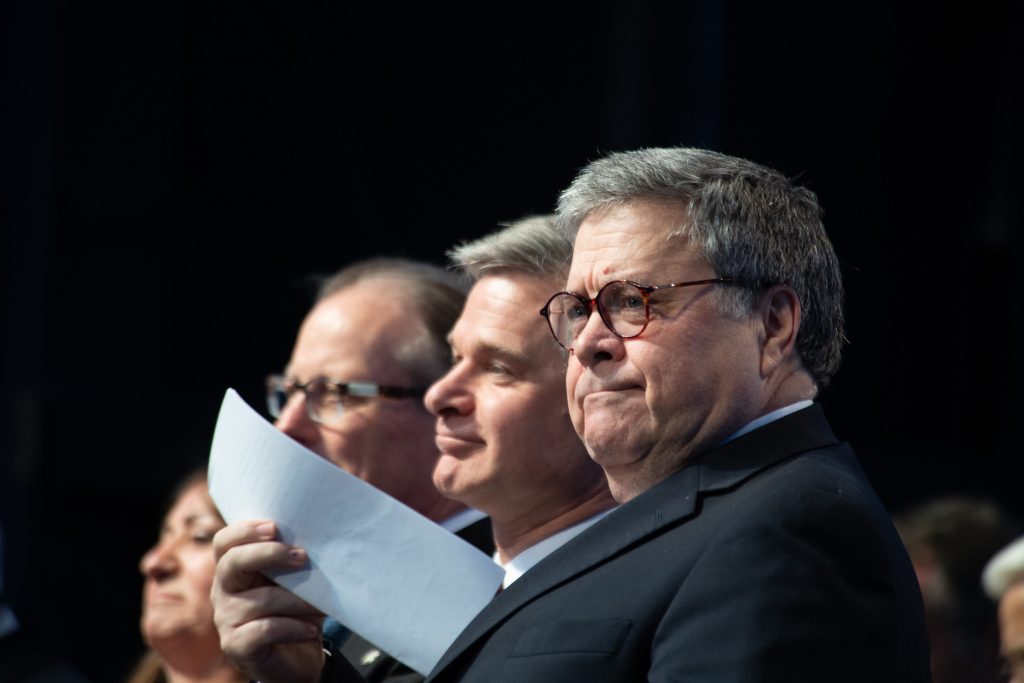 As evidence of Donald Trump's extortion against newly-elected Ukrainian President Volodymyr_Zelensky mounts, U.S. District Judge Beryl A. Howell ordered the Justice Department to provide The House Judiciary Committee with the redacted material in Special Prosecutor Robert Mueller's 448-page report, as well as exhibits and transcripts Attorney General William Barr has concealed since Robert Mueller wrapped up his probe into Trump's possible ties to Russian interference in the 2016 elections.
Judge Howell serves as chief judge for the Federal District Court in Washington, D.C., where she supervised the grand jury Mueller used in conducting his probe.
White House Counsel, Pat Cipollone, Blocking Witnesses
In a letter to Speaker Nancy Pelosi, White House counsel, Pat Cipollone, said the impeachment inquiry is not valid without a full House vote, the argument he's using to block witnesses from testifying.
Judge Howell quashed that argument on Friday, reminding Cipollone that the Nixon and Clinton hearings had set the precedent for the current House inquiry. (Nixon resigned before he could be impeached.)
No President, including Andrew Johnson, who was impeached in 1868, was removed from office, as ousting a President requires 67 votes in the Senate.
Obstruction of Justice
Judge Howell declared, "blocking access to evidence collected by a grand jury relevant to an impeachment inquiry, as DOJ urges, undermines the House's ability to carry out its constitutional responsibility with due diligence."
She concluded, "Congress's need to access grand jury material relevant to potential impeachable conduct by a President is heightened when the Executive Branch willfully obstructs channels for accessing other relevant evidence."
The order gives the Justice Department until next Wednesday to comply.
William Taylor and John Bolton
Democrats on the Judiciary panel (separate from the House Intelligence Committee overseeing the hearings) have said they need the redacted materials, as a flood of damning revelations are emerging on Donald Trump's so-called Ukraine shadow diplomacy, directed by Rudy Giuliani.
Ukrainian Ambassador, William Taylor, told the House in riveting testimony last week that he was shocked when an aide informed him Trump had threatened to withhold $391 million in military aid to Ukraine unless Zelensky went "to a microphone" and said he was opening investigations into the Bidens.
Trump also demanded Zelensky endorse his concocted story that the Ukrainians–not the Russians–interfered in the 2016 election.
Former National Security Advisor, John Bolton, whose testimony could be pivotal to the impeachment process, is deliberating whether to testify.
Bolton has already told Congress, according to testimony from others, he was" a central figure in trying to prevent any delay in releasing foreign aid to Ukraine", needed to fend off Russian aggression, The New York Times' Peter Baker reported.
"I am not part of whatever drug deal [EU Ambassador Gordon] Sondland and [Acting Chief of Staff Mick] Mulvaney are cooking up," Bolton advised Fiona Hill, his top Europe and Russian adviser, to tell her lawyer, Hill testified on October 15.
Hill also testified Bolton said "Giuliani is a hand grenade who's going to blow everyone up."