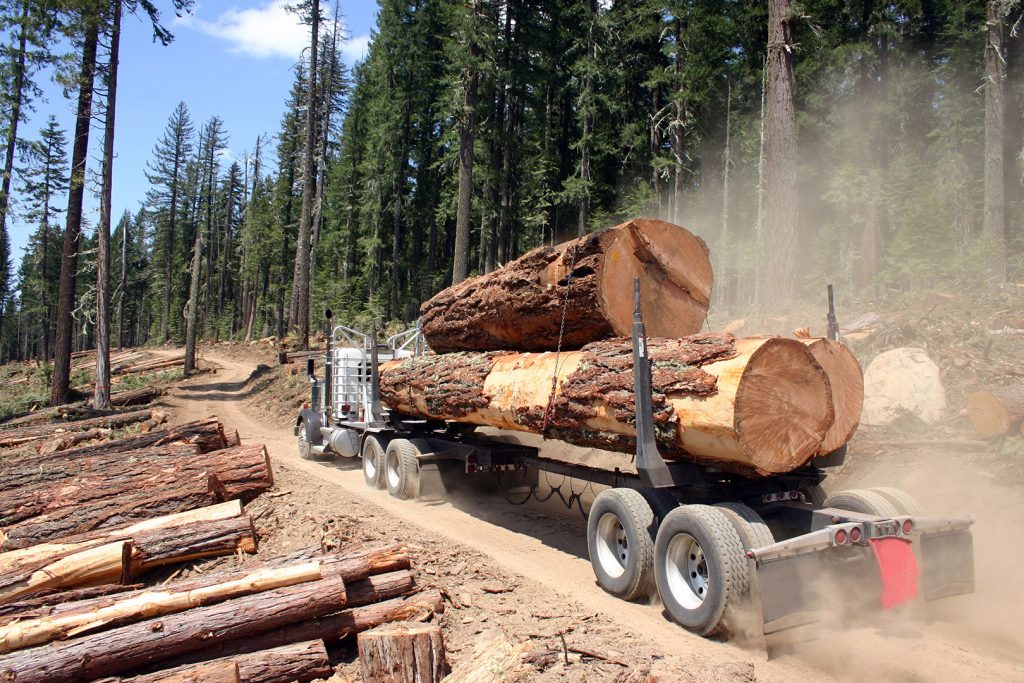 Late last year, California was besieged by some of the worst wildfires in the history of the state. Countless homes were destroyed. There were tens of billions of dollars in damages. Dozens of people died.

In response, the federal government leaped into action to provide the necessary aid. And President Trump, surveying the tragic carnage, issued an executive order… instructing government agencies to remove regulatory barriers on logging in federal lands.

Conspicuously absent from the executive order and from any other administrative reaction to the wildfires was an acknowledgment of climate change and the role it plays in extreme weather events – including catastrophic wildfires. While it's simplistic and reductive to say that climate change "caused" any given destructive weather event, climate scientists across the world agree that global warming is increasing both the frequency and destructiveness of catastrophic weather events.

The wisdom of increased logging on federal lands? There's rather less evidence for that.
What Does The Executive Order Do?
The executive order has the rather boring title "Promoting Active Management of America's Forests, Rangelands, and other Federal Lands to Improve Conditions and Reduce Wildfire Risk." But that bit of bureaucratic jargon hides what is, in reality, a significant change in federal policy.

The executive order calls for de-regulation with the goal of allowing the harvesting of an additional 3.8 billion board feet of timber from lands managed by the US Forest Service. In addition, the executive order envisions harvesting another 600 million board feet of timber from property owned by the Bureau of Land Management.

For reference, the Forest Service harvested a total of 2.9 billion board feet of timber in 2017. In 2016, the BLM had more than 233 million board feet for sale. As such, the executive order would represent a significant increase in the amount of timber on the market from these public lands.

The Trump Administration portrays the executive order as a wildfire-prevention initiative. The White House argues that existing forest management practices and timber-harvesting regulations prevent the needed removal of old trees and undergrowth in American forests. This means wildfires have more fuel and tend to be more dangerous and destructive.
Scientists and Environmentalists Criticize the Order
Environmental groups and other critics were quick to characterize the wildfire-prevention element of the order as a mere pretext for an administration eager to slash environmental regulations in all areas, arguing that the new policy represented a huge giveaway to the lumber industry.

The Wilderness Society said that the executive order "threatens National Forests," arguing that commercial logging and road building actually increase wildfire risk. And an open letter signed by dozens of scientists in August urged policymakers to re-consider the wisdom of increased commercial logging.

Environmental groups have already said they intend to sue if the White House moves to implement the order on the ground.
Climate Change: The Elephant In The Room
The Trump Administration has made it very clear it has no intention of tackling – or even acknowledging – the role climate change plays in these destructive weather events.

When the President visited northern California last November, he conspicuously avoided any reference to climate change, instead relaying supposed advice from the president of Finland to focus on "raking and cleaning."

Then-Interior Secretary Ryan Zinke (who resigned not long after as a result of multiple scandals involving alleged corruption and shady spending habits) sounded a similar note when he visited the affected areas, saying, "This has nothing to do with climate change. This has to do with active forest management." Even then, environmentalists were concerned – rightly, it seems – that the Trump Administration would use the wildfires as an excuse to increase timber harvesting on federal lands.

The reality, however, is that the wildfires in California likely represent a new normal in a world made hotter and drier by climate change. Scientists have warned for decades that a failure to seriously tackle climate change could result in a world that looks much different than human beings are used to.

Those changes can manifest in subtle ways – hotter summers, drier winters, seemingly minor weather shifts that make it harder to grow crops or find sufficient water. But now, it seems, the world is literally burning, and many of our leaders are stubbornly committed to fiddling all the while.