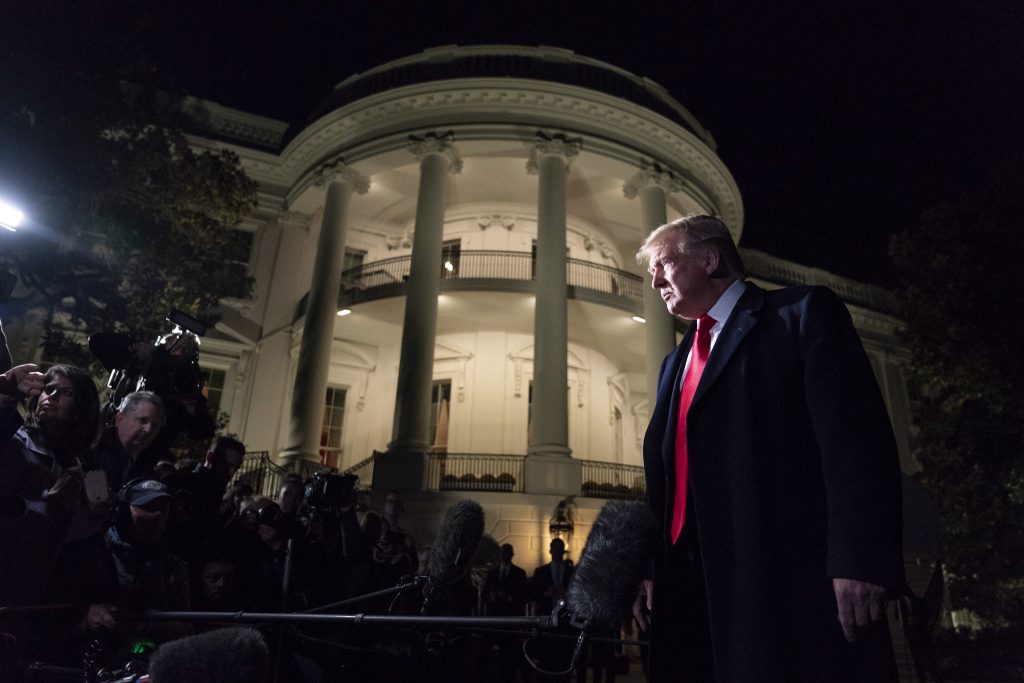 From the moment Democrats took control of the House of Representatives, the Trump White House has responded to Congressional oversight with unapologetic stonewalling. The administration has refused to turn over documents, prevented witnesses from testifying, asserted executive privilege and even ignored Congressional subpoenas.
The stakes of this obstruction have risen as House Democrats have launched an official impeachment inquiry. Multiple House committees have been hearing closed-door testimony for weeks on the nature of the President's actions toward Ukraine and whether Donald Trump attempted to leverage American military aid to get dirt on his political enemies. 
Many officials from the White House, State Department and Defense Department have testified. But the White House has blocked others from speaking to Congress. As a result, the courts are now hearing cases, including one brought by a blocked witness, that ask where the lines between executive privilege and Congressional oversight lie.
One of these cases is directly related to the ongoing impeachment inquiry. Another involves a key figure in the Mueller Report. But while the latter case is not directly relevant to impeachment, it could end up controlling whether some key witnesses in the impeachment inquiry will testify.
Kupperman's Conundrum
The case directly related to the ongoing impeachment inquiry involves Charles Kupperman, who was a high-ranking deputy to John Bolton during Bolton's tenure as National Security Adviser. And in a curious twist, it's Kupperman who filed the lawsuit in federal court.
Kupperman believes that he is caught in the middle of a difficult Constitutional question. House Democrats subpoenaed Kupperman, who sat in on the controversial phone call between Trump and the Ukrainian president, in October and demanded he appear for a deposition. Kupperman did not appear for that closed-door deposition – White House counsel Pat Cipollone told Kupperman not to show up, as current and former senior Presidential advisers are "absolutely immune from compelled Congressional testimony…."
House lawyers wrote a letter to Kupperman's attorneys arguing that existing Justice Department opinions, which affirm the White House position, are not binding. Thus Kupperman's uncomfortable situation – his lawyers argue that, without guidance from the federal courts, Kupperman will be forced to adjudicate a complicated Constitutional question by himself and, as a result, anger one branch of government no matter what he does.
So Kupperman has asked federal judge Richard Leon of the DC District Court to provide a ruling on the matter. Leon is fast-tracking the case, but he has set hearings for December 10. Given the timeline House Democrats are eyeing for impeachment (House leaders have floated the possibility of an impeachment vote by Thanksgiving), a final ruling would likely come well after a point where Kupperman's testimony means anything. However, an official ruling could have significant precedential value for future oversight conflicts.
The Case of Don McGahn
Former White House Counsel Don McGahn was a major character in the Mueller Report. McGahn came up again and again in the Special Counsel's report, especially in sections related to the President's attempts to obstruct Robert Mueller's investigation. As one might expect, this made him a figure of great interest to House Democrats, who subpoenaed McGahn. Predictably, the White House prevented McGahn from testifying, and House lawyers filed a lawsuit attempting to compel McGahn's testimony. 
A hearing in federal court October 31 did not go well for the White House, as Judge Ketanji Brown Jackson skeptically questioned the government's position. 
The Department of Justice's position, essentially, was that the dispute between the House and the Trump Administration is a political squabble between two co-equal branches of government and the judicial branch should not insert itself into the fight. When Jackson asked if that meant the House could never go to court, the government's attorney replied, "As a general proposition, that's correct."
The government argued that former Presidents and their advisers had absolute immunity from Congressional testimony, as such testimony could include matters covered by executive privilege. Jackson, who was appointed by President Obama, at one point asked, "What does checks and balances mean?"
McGahn has not been mentioned in connection to the Ukraine scandal, as he left the White House in October of 2018. He almost certainly will not play a role in the ongoing impeachment drama. However, a binding legal ruling in this case could impact whether administration officials will be forced to testify in the impeachment inquiry in the event the White House attempts to block their testimony.