The Ukrainian whistleblower crisis deepened on Thursday when federal prosecutors unsealed charges on four Soviet-born men, who allegedly helped President Trump and his personal attorney, Rudy Giuliani, in their attempt to dig up dirt on Trump's political rival, Joe Biden.
The indictment charges Lev Parnas, Igor Fruman, David Correia and Andrey Kukushkin with federal campaign finance law violations.
Manhattan U.S. Attorney Geoffrey Berman, a Trump appointee, said Parnas and Fruman were arrested Wednesday evening at Dulles International Airport near Washington as they tried to hop a flight with one-way tickets.
Berman did not reveal their destination, but a person familiar with the matter said they were ticketed for Frankfurt, Germany, USA Today reported.
Kukushkin was arrested in San Francisco, and Correia was not yet in custody late Thursday.
Prosecutors allege that they "conspired to circumvent the federal laws against foreign influence by engaging in a scheme to funnel foreign money to candidates for federal and state office so that the defendants could buy potential influence with candidates, campaigns and the candidates' governments."
"Protecting the integrity of our elections (is) the core function of our campaign finance laws," Berman said Thursday, adding that the inquiry was continuing.
Parnas was due to appear before the House Committee impeachment hearings on Thursday and Fruman on Friday.
The twosome appeared in federal court in Alexandra, Va., on Thursday wearing tee shirts.
They were released on $1 million bond each after their passports were revoked. They are being confined at home with electronic monitoring equipment.
The US Attorneys Office for the Southern District of New York, which is leading the probe, declined to comment.
Ironically, Giuliani was the US Attorney for the Southern District before becoming New York City mayor in 1994.
Both Parnas and Fruman are represented by John Dowd, Trump's former lawyer.
While Trump told reporters Thursday that he didn't know Parnas or Fruman, he and his family were photographed with them on Facebook.
Parnas, who is buried in a trail of debt and lawsuits, had known Giuliani for years through Republican political circles, The New York Times reported.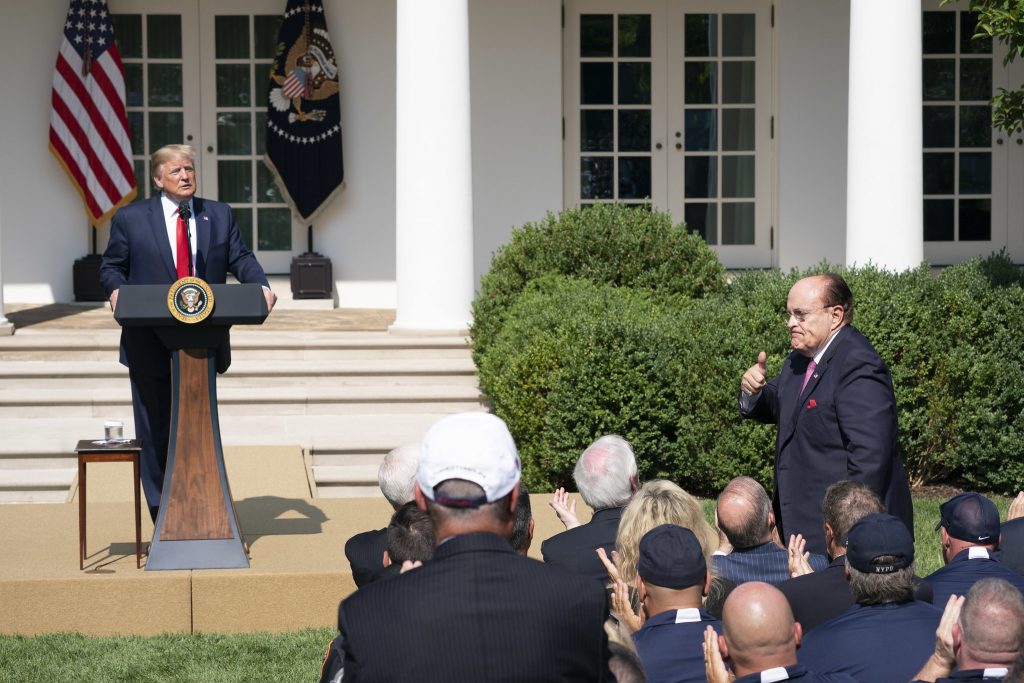 Lunch at Trump International Hotel
Both Parnas and Fruman lunched with Giuliani at the Trump International Hotel in Washington on Wednesday, the Wall Street Journal reported.
That would have been just hours before prosecutors said the two were busted on Wednesday afternoon at Dulles Airport.
CNN reported prosecutors in Manhattan are investigating whether Giuliani knew the two men were about to flee the country.
Parnas was born in Ukraine and Fruman in Belarus prior to the USSR's breakup.
Trump's efforts to coerce the Ukrainian President Volodymyr Zelensky, to investigate Hunter Biden triggered House Speaker Nancy Pelosi's formal impeachment inquires.
Bloomberg reported Kevin Downing, another lawyer for the two, represented Trump's former campaign chairman Paul Manafort in his defense against tax and lobbying charges brought by Special Counsel Robert Mueller.
$325,000 Funneled to a pro-Trump Political Action Committee
In May 2018, Parnas and Fruman contributed $325,000 to a pro-President Trump political action committee, America First Action.
While the money was reported as coming from a US-based natural-gas company, GEP, the company is alleged to be a front.
The two men claimed that the company was a "real business enterprise" and that "its major purpose is energy trading, not political activity," the indictment alleges.
The Wall Street Journal reported the "twosome were engaged in the U.S. on behalf of one or more Ukrainian government officials–including a lobbying campaign to aid a Republican Congressman and also to remove the U.S. ambassador in Ukraine, Marie Yovanovitch, whom President Trump ousted in May for trying to expose the Ukrainian corruption."  
Yovanovitch testified before a House Committee Friday.
Former Texas Congressman, Peter Sessions, Implicated
The two men also planned to funnel campaign funds to a former Texas Congressman, identified by the Wall Street Journal as Peter Sessions.
Parnas and Fruman offered to raise more than $20,000 for him in May and June 2018, according to court papers and federal campaign records.
The indictment alleges Parnas met with Sessions to force the ouster of then-US ambassador Marie Yovanovitch.
Sessions and Giuliani allegedly urged Trump to fire Yovanovitch, as she was attempting to derail their scheme to besmirch Biden, a likely opponent in Trump's 2020 Presidential campaign.
Although the indictment does not name Trump or Guiliani, it begs further investigation.