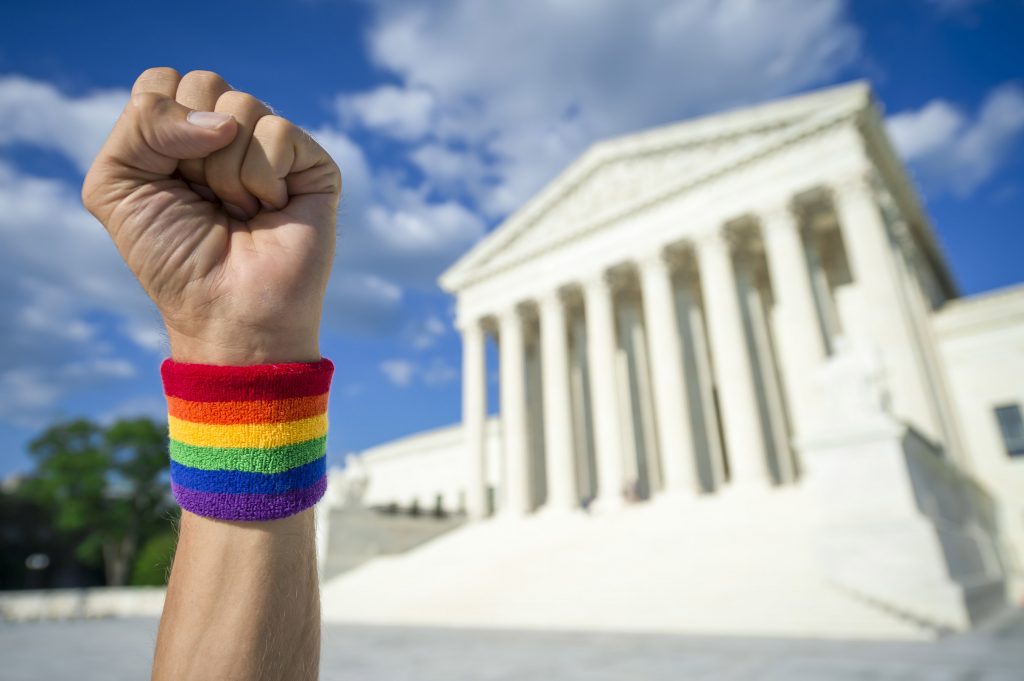 In an unlikely scenario during heated oral arguments on Tuesday, Trump nominee, Justice Neil Gorsuch, appeared sympathetic to two gay men, the late Don Zarda from New York and Gerald Bostock of Georgia, who were allegedly both fired due to their sexual orientation.
Gorsuch was not as sympathetic to the transsexual plaintiff, Aimee Stephens from Michigan, whose case was heard separately Tuesday morning.
The courtroom was packed, while LBGTQ advocates howled outside "Fire Trump, not gay and transgender workers", an indication of the angry demonstrations that will likely occur across the nation if the Supreme Court denies gay and transgender employees the same federal employment rights as heterosexuals.
All three lawsuits hinge on the meaning of Title VII of the 1964 Civil Rights Act forbidding discrimination "because of sex" but not specifically mentioning sexual orientation or sexual identity.
The disputed cases include a win for Don Zarda in the The Second Circuit Court of Appeals' decision in Zarda v. Altitude Express.
Don Zarda's estate argues he was fired after trying to soothe a female client–who was strapped closely in the air next to him during a tandem dive—telling her not to worry about any sexual aggression as he was "100 percent gay."
The Second Circuit ruled that sexual orientation is a subset of sexual discrimination, and deserves protection under the Civil Rights Act, even if it wasn't specifically included in 1964.
The second gay case–consolidated with the first–Bostock v. Clayton County Georgia, handed a loss to the plaintiff, Gerald Bostock, who was fired by Clayton Child Welfare Services, for allegedly mismanaging funds.
Bostock says he was framed after he "came out" by playing in a gay softball league.
The transgender case, R.G. and G.R Harris Funeral Homes v. EEOC and Stephens was victory for the plaintiff, a trans woman, Aimee Stephens–formerly Andrew Stephens.
The Sixth Circuit, in Cincinnati, ruled it is 'analytically impossible to fire an employee based on that employee's status as a transgender person without being motivated, at least in part, by the employee's sex."
Not on the Radar in 1964
In oral arguments, the Justices widely agreed that when Lyndon Johnson enacted the Civil Rights Act in 1964, the concept of "gay and transgender employee rights" was not on the radar.
Justice Ruth Bader Ginsburg noted that in 1964, gay men and women were designated as mentally ill by psychiatrists.
Chief Justice Roberts—the Court's new centrist—is not about to hand liberals a victory, if his arguments asking whether the Court should be in the business of "updating old statutes" and that the 'sex' was understood at the time to mean between men and women, are any indication.
"Roberts seemed unsympathetic to all three of the plaintiffs," Vox notes.
"He even struggled with trans pronouns–at one point referring to a trans woman as "he … he or she."
"Several of Roberts' questions focused on the impact a victory for the plaintiffs could have on religious conservatives who object to gay or trans workers," Vox writes.
It's noteworthy that Roberts voted 5-4 with his Conservative brethren against Obergefell_v._Hodges , the 2015 gay marriage decision, championed by Justice Anthony Kennedy.
Arch Conservative, Justice Samuel Alito, stated Congress had failed to pass a federal law protecting gay and transgender people.
If the Court ruled the Civil Rights law applied to gay workers, "we would be acting exactly like a legislature," Alito argued.
Gorsuch's Truth Serum
A win for liberals in the gay cases appears to hang on Gorsuch's vote.
"Let's do truth serum, okay?" Gorsuch posited.
"Wouldn't the employer maybe say [the firing is] because this person was a man who liked other men?
"And isn't that first part sex?" Gorsuch asked of Jeffrey Harris, an attorney for Gerald Bostock, who played on the gay softball team.
Massive Social Upheaval
Gorsuch is not as sympathetic to transgender employees.
He worried that perhaps the Court should be reluctant to rule in the plaintiff's favor to avoid "massive social upheaval", and asked how transgender employment rights might affect "bathrooms, dress codes and sports."
Justice Elena Kagan, an Obama appointee, argued the text of the expansive 1964 Civil Rights Law weighs in favor of the employees.
Justice Brett Kavanaugh didn't ask any questions that suggested how he may vote.
Justice Clarence Thomas displayed his usual silence.
South and Midwest Lacking Employment Protection
Twenty-two states currently bar discrimination based on sexual orientation, and several other states protect public employees.
However, the South and many of the Midwestestern states don't have anti-discrimination laws.
The House passed a gay and transgender bill in May, now stalled in Mitch McConnell's Senate graveyard.