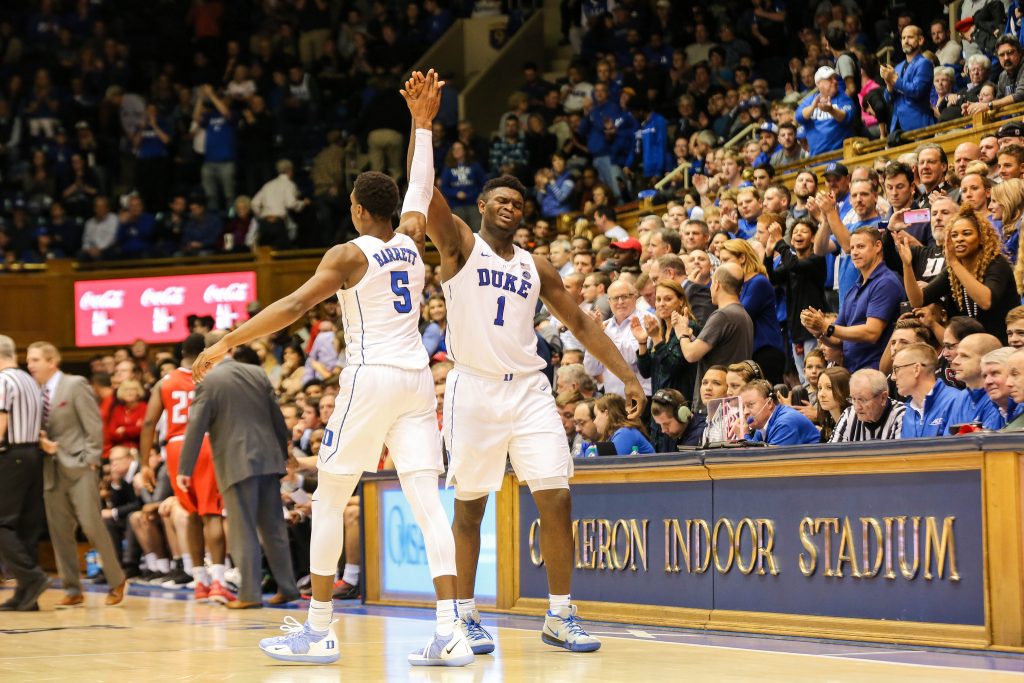 With March Madness right around the corner, Duke University superstar freshman basketball player, Zion Williamson, came crashing down to the floor after less than 35 seconds into a huge game against the University of North Carolina Tar Heels last week when his Nike PG 2.5 PE basketball shoe came apart—literally.

The NBA-bound powerhouse planted his foot to change direction, and his left shoe came apart, causing him to fall awkwardly to the floor of the court. Williamson, the 6'7" 285-pound forward, who is one of the most highly regarded college prospects in years, suffered a mild knee sprain, according to Duke coach Mike Krzyzewski. The Nike shoe came apart at the base leaving the sole hanging separately from the rest of the shoe, and Williamson never returned to the game. Number eight-seeded UNC upset the first seed Blue Devils by a score of 88-72 last Wednesday night.
Is Nike Liable for the Injury?
The incident raised a number of questions: How serious is Williamson's injury, and is Nike legally liable for a defective product that caused an injury to someone who has been called "The Next LeBron James"? It's not yet clear just how serious the injury is and how much it will affect Williamson's basketball-playing ability, but if the injury negatively impacts his ability to play and be drafted into the NBA as the top pick, is Nike financially responsible for lost future wages, pain and suffering, or other damages?
Fallout from the Shoe Malfunction
According to reports, the shoe malfunction news traveled fast for Nike, and the fallout for the United States' largest sportswear brand was immediate. Twitter lit up, late night talk show hosts took their pot shots, and people were sharing the video of Williamson's fall left and right. Nike stock fell as much as 1.8% in New York trading Thursday, the morning after the fall Wednesday, February 21.
The shoe malfunction could not have come at a worse time for Nike. The game, which was televised nationally on ESPN, was one of the most anticipated college basketball games of the year. The cheapest resale tickets leading up to tip-off were over $2,500, close to the price of Super Bowl tickets. Former President Barack Obama and director Spike Lee were just two of the celebs in the stands that night.

Williams' fall could also hurt Nike's relationship with college sports altogether. Companies like Nike, Adidas, and Reebok pay tens of millions of dollars for the exclusive right to outfit high profile college programs like Duke basketball. Athletes at the schools are required to wear uniforms and shoes made by the teams' sponsors; in this case, Nike was the team sponsor for Duke. Even though the contract terms are not public, to get an idea of the ballpark of the money involved in sponsorship such as this, the University of Kentucky Wildcats, another top basketball team, recently extended its Nike deal for eight years and $30.6 million.
Is Nike At Fault?
Former Nike developer and engineer, Tiffany Beers, who worked on high-profile projects such as the Nike Mag and HyperAdapt 1.0 said it's difficult to pinpoint an exact reason for the malfunction. "From my experience, clearly there's a material issue…Another factor is, was it a mass produced shoe, or was it a sample? Maybe the cure of the cement wasn't done properly. There has to be a manufacturing issue."
Beers pointed to other possible contributors to the malfunction: heavy wear, the freshman's play style, or his physical attributes.
If Nike becomes the target of a product liability lawsuit, the plaintiff would have to prove that an injury occurred due to the shoe's defect. If Williamson's injury is more serious than his coach reported early on, Williamson and Duke University could possibly sue Nike. If Williamson's injury leads to lasting or permanent impairment in his ability to succeed as a basketball player, he could argue that Nike is liable for manufacturing a defective sneaker that caused his injury.

Nike is legally obligated to market footwear that is of reasonable quality for its intended purpose. Article 2 of the Uniform Commercial Code, which has been adopted in North Carolina, obligates retailers "to provide goods that are merchantable, meaning of ordinary quality." A shoe that falls apart 35 seconds into a basketball game, if it had not been tampered with or misused by the wearer, fails that test.

Having a product liability case on its hands would be disastrous for Nike, a company who, unfortunately, is no stranger to problems with sports apparel falling apart. In 2017, several NBA players had their jerseys torn by other players in the middle of a game, including LeBron James, Tyler Ennis, Draymond Green, Ben Simmons, Kevin Love, and Thaddeus Young.