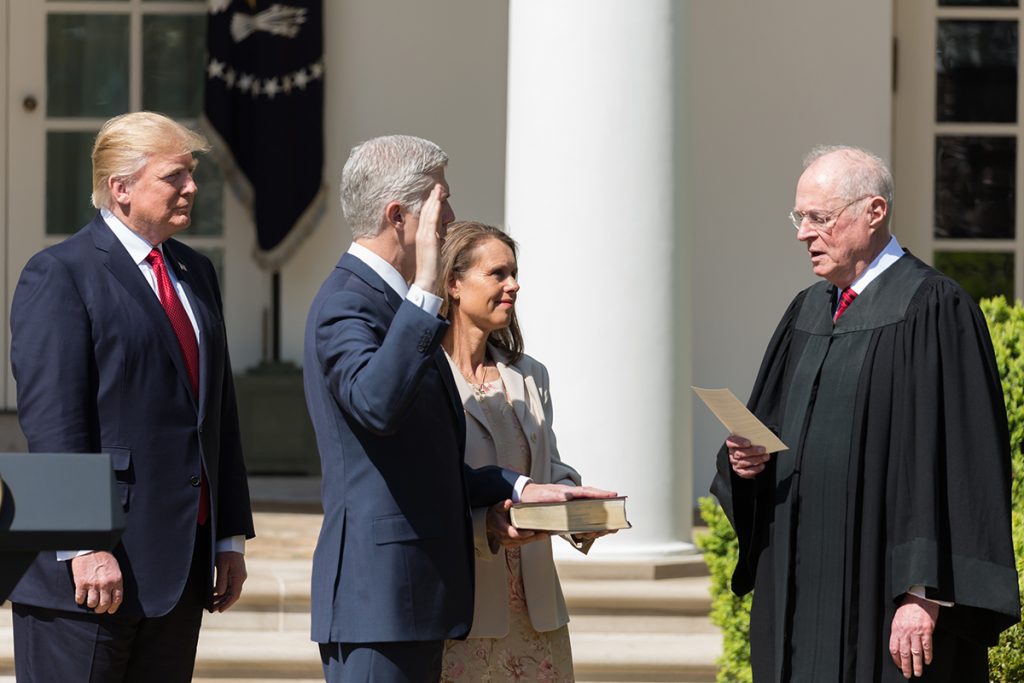 Justice Neil Gorsuch appeared to support President Trump's decision to end the Deferred Action on Childhood Arrivals (DACA) program in tense oral arguments on Tuesday. The DACA program was started by President Obama in 2012 to protect approximately 700,000 unauthorized immigrants brought to the US as children.
Trump has argued that DACA is unlawful and that ending it deters illegal immigration.
Trump's solicitor general, Noel Francisco, argued that a memorandum issued by then-Acting Homeland Security Secretary, Elaine Duke, and cited by then-Attorney General Jeff Sessions–who both wrote that DACA was unlawful– provides sufficient justification to end Dreamers' deportation protection.
"What more needs to be said?" Gorsuch asked the Court.
Justice Ruth Bader Ginsburg said the second memo, issued by Jeff Sessions, was "infected by the idea that DACA is illegal."
Justices Sonia Sotomayor and Stephen Breyer, argued the Trump administration failed to adequately consider the effects of rescinding DACA when it did so in 2017.
Justice Sonia Sotomayor agreed with DACA attorney, Theodore Olsen, who said that Trump hurt the administration's arguments by "telling DACA recipients that they were safe under him and that he would find a way to keep them here."
Chief Justice John Roberts—the most closely-watched Court member, as he is the new swing vote–seemed unsure about whether the Court had the statutory authority to review the executive-branch decision.
Roberts is known as an advocate of judicial restraint.
He famously said, "if it is not necessary to decide more to a case, then in my view it is necessary not to decide more to a case", giving the Dreamers hope that he may side with the Court's liberal wing in a 5-4 decision, when the case is decided by June, 2020.
Roberts noted the U.S. government doesn't have the resources to send 700,000 people back to a country they've never lived in.
Trump has said that "if things go his way", he'd cut a deal with the Dreamers.
The Court will decide the merits of DACA according to the Administrative Procedures Act that states the repeal of any act must be based on legally sound reasoning.
DACA defenders argue that ending DACA was an arbitrary and capricious decision made by a cruel President, who called Dreamers "hardened criminals" on Monday.
The case, Department of Homeland Security v. Regents University of California, will be decided by June 30, 2020.