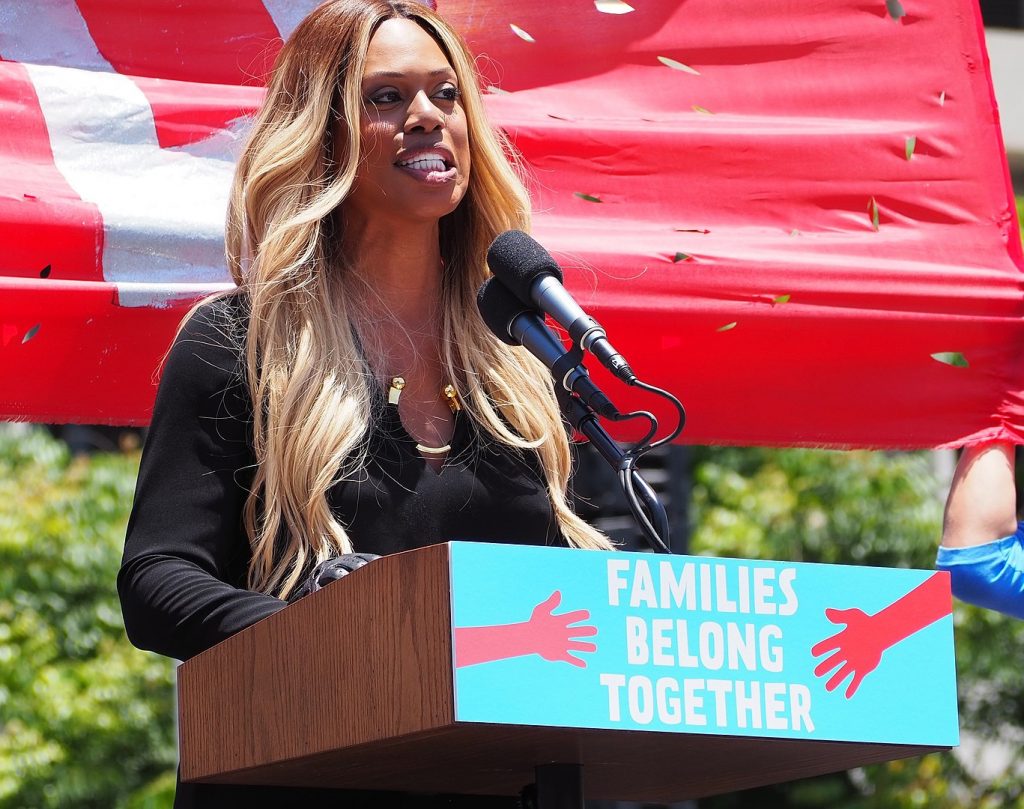 Laverne Cox, the first transgender woman of color to win three Emmy awards for her role in Netflix's series, Orange is the New Black, sported a handbag at the Emmy's with lettering reading "October 8, Title VII Supreme Court', that thrust three watershed LGTBQ Supreme Court cases– whose oral arguments are set to be heard on October 8–into the national spotlight.
The Court will decide the cases during its spring term, ending on June, 30, 2020, in the heat of the Presidential campaign season.
With Justice Brett Kavanaugh having replaced gay rights champion, Justice Anthony Kennedy on the Court last October, gay and transgender rights are in jeopardy.
Trump Opposes LGBTQ Rights
The LGBTQ cases mark the first rulings on whether gay and transgender employers are protected by Title VII of the Civil Rights Act of 1964, which "prohibits employment discrimination based on race, color, religion, sex and national origin."
Trump's Justice Department's official position is that the Civil Rights Act does not protect LGBT individuals.
Split Rulings in Two Cases Involving Rights of LGBT Individuals
The three cases in dispute include: The Second Circuit Court of Appeals' decision in Manhattan in the case of Zarda v. Altitude Express.
The Zarda decision provided gay workers with a resounding 10-3 majority in February, 2018
Zarda argues he was fired after trying to assure a female client– who was strapped closely next to him during a tandem dive–not to worry about any sexual aggression as he was "100 percent gay."
The client's husband called Altitude Express to say Zarda had acted inappropriately.
Zarda argues that sexual orientation is a subset of sexual discrimination and that "Title VII protects employers from discriminating against individuals who do not conform to conventional gender stereotypes, such as the idea that women should be attracted to men and men should be attracted to women," Amy Howe writes, quoting Zarda's brief in the SCOTUS Blog.
Gerald Bostock Loses in Georgia
The case, Bostock v. Clayton County Georgia, involves the firing of Gerald Bostock, employed by Clayton Child Welfare Services, for allegedly mismanaging funds. 
Bostock says his employers fabricated the mismanagement charges despite 10 years of dedicated employment, after he 'came out' by participating in a gay softball league.
The Eleventh Circuit Court of Appeals (with jurisdiction over Georgia) ruled for his employer, concluding the Civil Rights Act Title VII clause does not protect employees "because of sexual orientation."
Both Zarda and Bostock point to a "unanimous 1998 decision, authored by the late Justice Antonin Scalia, holding that same-sex sexual harassment can violate Title VII," Howe notes.
Reuters reported Bostock as saying, "I had just lost the job I had loved–my passion. I lost my source of income. I lost my medical insurance," Bostock, 55, said in an interview at the house he shares with his partner in Doraville, located just northeast of the capital city of this southern U.S. state,
"A rainbow-colored gay pride flag flutters outside.
Aimee Stephens' Transition
The transgender case, R.G. and G.R Harris Funeral Homes v. EEOC and Stephens, concerns a transgender woman, Aimee Stephens–formerly Anthony Stephens– who says she was trapped in a woman's body, a state of agony that nearly led to her suicide, The Daily Beast reported.
"In 2012, it came to a boiling point," Stephens said.
"…..I stood in the backyard with a gun to my chest for an hour. But I came to the conclusion that I couldn't do it—that I liked me too much. I made the choice to live. And it was shortly after that that I drafted the letter to my boss," Stephens told The Beast.
Summarily dismissed by her Michigan Funeral home boss after she told him of her intention to start dressing as a woman, G.R. Harris Funeral Homes filed a complaint alleging Stephens refused to comply with the dress code and was disturbing mourners' grieving process.
"The Sixth Circuit, in Cincinnati, ruled for Stephens, saying it is 'analytically impossible to fire an employee based on that employee's status as a transgender person without being motivated, at least in part, by the employee's sex," writes Marcia Coyle in the National Law Journal.
The funeral home appealed to the Supreme Court.
EEOC v. Trump
Trump's Justice Department opposes his own Equal Employment Opportunity Commission—part of the Civil Rights Act– for the first time ever.
Even Republican members installed by Trump have refused to sign the brief endorsed by former Attorney General Jeff Sessions and more recently by AG William Barr.
Meanwhile, in more than half the states, an employee can still be fired for being gay, including Georgia, where Bostock's job hangs in the balance.
More than 200 Companies for LGBTQ Rights
More than 200 major companies have urged the Supreme Court to include sexual orientation and gender identity in their Civil Rights Act Title VII protections, USA Today reports.
The companies employ a total more than 7 million workers and have more than $5 trillion in revenue.
They argue the U.S. economy benefits from a diverse workforce.
The firms signing on to the Supreme Court brief include: Amazon, Apple, eBay, Facebook, Google and Microsoft as well as more traditional companies including: AT&T, General Motors, Walt Disney, IBM, JPMorgan, Wells Fargo, Goldman Sachs, Levi Strauss, and more.