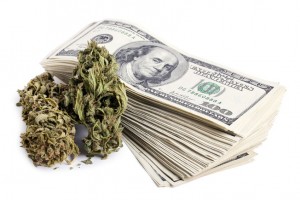 Earlier this week, a group of senators from Colorado, Washington, and Oregon asked federal regulators how banks can better service the legalized marijuana industry while still adhering to federal laws.
As it is, businesses that sell marijuana to consumers are having a hard time getting banks to hold their revenue due to the illegality of marijuana on a federal level.  Banks such as Wells Fargo, Citigroup, and Chase have turned their backs on the booming cannabis industry, forcing businesses to store their money elsewhere.
This presents a "significant public safety risk", according to senators Jeff Merkley, Ron Wyden, Patty Murray, and Michael Bennet in a letter to U.S. regulators, as law abiding marijuana businesses are being left vulnerable to potentially violent robbers and other criminals.
Not only are banks indirectly risking public safety, the lawmakers said, but they are unable to monitor the billions of dollars generated by weed sales.
This isn't to say that banks are to blame.  The four senators are simply asking for clarification and guidance from the government on how to proceed, after regulators have mostly remained silent.
In their letter, they suggest that the government work with a Unit of the Treasury Department, the Financial Crimes Enforcement Network, to ease hesitations from financial institutions regarding the issue.
"Without clearer guidance from all federal regulators to provide certainty in the regulatory environment, most banks and credit unions are still not serving marijuana-related clients," making them "a prime target for robbers and other criminals" the letter said.
Time will tell how the marijuana industry fares without the help of banking services, while consumers in Colorado, Washington, and Oregon continue to fuel the fire with big spending.