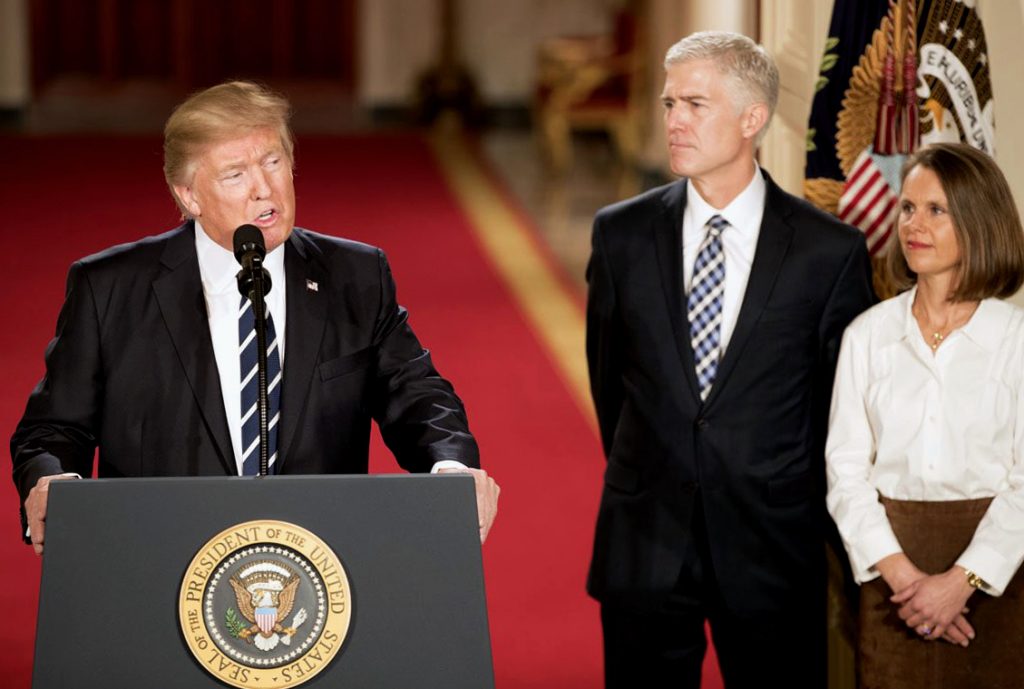 About two months after being sworn in, Justice Neil Gorsuch was formally welcomed to the high court with a formal investiture ceremony last week. In his first few months as Justice of the Supreme Court, he has offered the public a glimpse of what's to come. Of course, the young (49-year old) justice already sat on over 2,700 panels during his tenure at the Tenth Circuit where he developed a reputation for eloquent opinions, no-nonsense questions during oral arguments and judicial restraint. It was these characteristics that made him popular among conservatives and that ultimately won him a seat on the highest court.
Investiture
The investiture ceremony only took a total of six minutes and involved a list of well-known political figures, both present and past, including former attorneys general Edwin Meese, John Ashcroft, Alberto Gonzales and Michael Mukasey. A number of GOP Senators from the Judiciary Committee were in attendance as well: Orrin Hatch (Utah), Lindsay Graham (South Carolina), John Cornyn and Ted Cruz (Texas), Jeff Flake (Arizona), Thom Tillis (North Carolina) and John Kennedy (Louisiana).
Literal Interpretation
Since taking his seat, Justice Gorsuch has consistently shown, during oral arguments, a disposition towards a literal interpretation of statute. To this end, he berated one lawyer for using "linguistic somersaults." Gorsuch has claimed to be a proponent of the "originalist" legal doctrine popularized by Justice Antonin Scalia. These positions were then clarified in his first opinion.
Judicial Philosophy and First Opinion
Gorsuch gave voice to his judicial philosophy earlier this month when he authored his first opinion for a unanimous court in Henson v. Santander Consumer USA. Praised by many for its literary quality, the opinion favored debt owners by rejecting the claim that the the Fair Debt Collection Practices Act (FDCPA) applied to companies who bought debt and sought to collect it.
Towards the beginning of his first decision, he emphasized his literalist position: "We begin, as we must, with a careful examination of the statutory text." He continued to break down the language of the underlying statute, citing dictionaries and reference texts. And in the end, he punctuated the opinion with a grand articulation of his conservative stance on the role of the judiciary: "Constant competition between constable and quarry, regulator and regulated, can come as no surprise in our changing world. But neither should the proper role of the judiciary in that process—to apply, not amend, the work of the People's representatives."
Yet to Come
The greater tests are yet to come. Being the fifth conservative vote on the bench and a proponent of (so-called) religious liberty, Gorsuch will likely favor the Luthern Church that is currently challenging Missouri's decision to withhold certain funding from religious organizations. The court will also consider the administration's appeal of several lower courts' decisions halting Trump's travel ban. That's in addition to cases involving gay rights, political parties, gun ownership, and unions.
Gorsuch has surely shown his conservative colors, but it remains to be seen how exactly he will rule on certain issues. Take arbitration, for instance. He opted out of a decision regarding mandatory arbitration in May and his past decisions on the matter have not indicated a hard position.
Contrarily, he expressed his position on the Chevron deference with utmost clarity. The Chevron precedence "permit[s] executive bureaucracies to swallow huge amounts of core judicial and legislative power and concentrate federal power in a way that seems more than a little difficult to square with the Constitution of the framers' design," he wrote.
Finally, Gorsuch displayed a willingness to go against the Court when he joined Justice Clarence Thomas in a request to hear a case involving the ban on unlimited spending on federal elections. It stands to reason he might do the same in the future.
These are just some of the clues we've received over the past few months. Of course, there's a lifetime of decisions and argumentation yet to come.