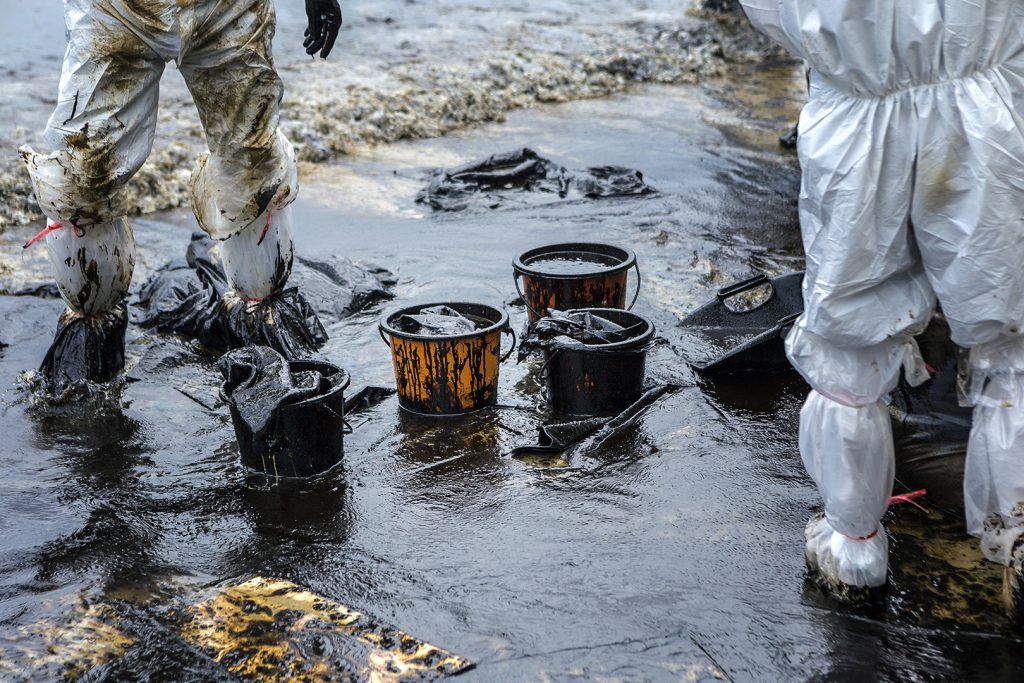 In January, President Trump announced plans to open up 90 percent of US coastal waters to oil and gas drilling, rendering places like George's Bank and the Florida Straits vulnerable to unnecessary risks. As noted in a National Resources Defense Council blog post, as drill rigs are erected, risks of blow outs, major spills, explosions and sonic blasting become real possibilities. In collaboration with the National Parks Conservation Association, the NRDC released a report that could shed light on the potential consequences of the Trump administration's move.
The Report
The report paints a devastating picture of American landscapes potentially ruined by an onslaught of fossil fuel pollution. According to the study, 68 parks – which bring in 84 million visitors on a yearly basis and are responsible for 59,000 jobs – will be put at risk. For instance, the Outer Banks – in North Carolina – brought in millions of visitors and catalyzed $230 million in spending in 2017.
Opponents
Mark Wenzler, a senior vice president at the National Parks Conservation Association, lamented the decision to open up US waters to massive drilling: "These places matter, and we cannot completely protect them if we start to drill off our coasts." He continued, "Not only is the administration trying to open up these areas, but they are also pursuing a parallel agenda to deregulate the oil and gas industries. … We think that's a recipe for disaster."
Franz Matzner, a VP at the National Resources Defense Council, echoed Wenzler: "It may be stating the obvious to some," he said, "but it may not be obvious to the Trump administration, which is barreling ahead with a plan that is unprecedented."
Breakdown
Twenty-seven of the potentially affected places exist in the Southeastern part of the US, where national parks supply 16,000 jobs. California alone has 10 parks that could be hit in a big way, according to reporting done by the SF Chronicle. Beaches, recreational sites, marinas – all of these and more could be "slimed" by the foreseen rise in oil rigging permits. And since the 68 national parks in question bring in $5.9 billion in goods and services, the imminent increase in oil drilling could have disastrous economic effects.
Preceding Events
On January 4th, Interior Secretary Ryan Zinke announced plans to grant 47 new oil drilling leases in 25 of the 26 planning sites in US waters. Nineteen of those sales will be in Alaska waters. The remaining leases will be spread throughout the Atlantic, Gulf of Mexico and the Pacific.
Zinke had this to say when the leases were first announced earlier this year: "We want to grow our nation's offshore energy industry, instead of slowly surrendering it to foreign shores." He continued, "This is a clear difference between energy weakness and energy dominance. Under President Trump we're going to have the strongest energy policies and be the strongest energy superpower."
Just prior to announcing the new leases, the Trump administration put forward plans to roll back certain safety procedures put in place after the BP spill in 2010. The administration altered regulations that were designed to prevent a disaster like Deepwater Horizon, which killed 11 workers, led to the deaths of thousands of marine animals – including pelicans, dolphins and sea turtles – and caused intense pollution along 1,100 miles of coast.
What's more, in December, the administration put an end to a National Academy of Sciences study specifically designed to review the Interior Department's inspection programs and to enhance safety procedures on oil rigs.
Profits Over People
There are those who would argue that we need more oil to insulate ourselves against national security risks and to foster energy independence. But as noted by the NRDC, the numbers suggest a different story. We produce 12.9 million barrels of gas and oil every day – our highest production level since the 1970s. Moreover, we export 6.9 million barrels of petroleum products – which account for a third of our daily use – every day. In short, there is no dearth of oil production. So why sell 47 leases and open up nearly all US waters to further drilling? To increase profits, no matter what the effects may be on the environment.