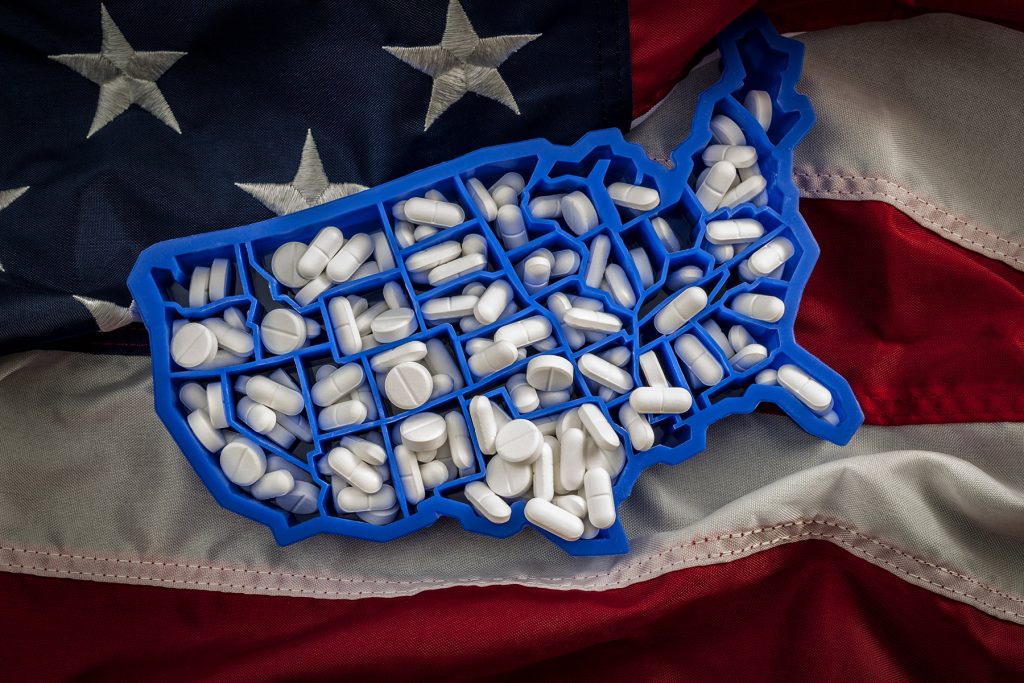 The family-friendly image of the Johnson & Johnson company is a distant memory now as the manufacturing/retail giant faces a huge legal battle that has temporarily moved the spotlight from its talcum powder lawsuits and its transvaginal mesh medical device lawsuits to a multi-billion dollar opioid lawsuit filed by the state of Oklahoma. 
The Attorney General of the State of Oklahoma, Mike Hunter, is suing Johnson & Johnson for its alleged part in "driving addiction and overdoses" in the state in the first trial of a drug maker over the opioid epidemic. With drug distributors, manufacturers and pharmacy chains facing thousands of lawsuits across the country for their contributions to the opioid epidemic, all eyes are on this latest filing that may provide an indication of what big pharma may face in the coming months and years as more and more opioid lawsuits are heard in courtrooms all over the United States.
Marketing Over Safety?
The lawsuit contends that Johnson & Johnson, along with other drug makers, collaborated "to create a false narrative of an epidemic of untreated pain in the US to which opioids were the solution, in part by funding front organizations such as the American Pain Society." 
Attorney General Hunter claims that "strategy" helped "drive a surge in opioid prescribing as narcotic painkillers ballooned into a multibillion-dollar-a-year market." The lawsuit alleges that Johnson & Johnson was much more concerned with increasing the demand for one particular narcotic pain medication, Duragesic, than it was with ensuring this potent drug was being prescribed correctly.
Janssen is a subsidiary of Johnson & Johnson and was founded by Paul Janssen, the Belgian who invented the artificial opioid, fentanyl, in 1960. Fentanyl has been in the news for several years now as a synthetic and deadly version of it is being shipped to the United States from other countries, namely China; fentanyl is one of the main reasons so many people are overdosing here in the United States. A tiny amount of fentanyl (and a stronger version of it known as "carfentanil") is deadly.
According to the National Institute on Drug Abuse (NIDA), in 2016, the synthetic opioid fentanyl was involved in nearly 50% of all opioid-related deaths, up from only 15% in 2007. That means that synthetic opioids (primarily illegal fentanyl) passed prescription opioids as the most common drugs involved in overdose deaths in the nation. Of the 42,249 opioid-related overdose deaths in 2016, a staggering 19,413 involved synthetic opioids (fentanyl), 17,087 involved prescription opioids, and 15,469 involved heroin.
In the early 1990s, Janssen Pharmaceuticals sold a fentanyl patch, Duragesic, to treat severe pain in people with various forms of cancer; however, when another powerful opioid came on the market, OxyContin, Janssen widened the market for Duragesic by falsely claiming there was a very low risk of addiction associated with this particular narcotic pain medication, according to Attorney General Hunter's lawsuit. Doctors began prescribing a drug intended for severe pain only to patients with only mild and moderate levels of pain, and Duragesic was used by millions of people to treat ailments as common as low back pain.
Looking Ahead to Future Legal Battles
What makes this case so important is that other drug firms being sued by towns, cities, and counties in nearly 2,000 lawsuits combined in a single action in federal court in Ohio, known as the Multi District Litigation (MDL), will know what to prepare for based on how this lawsuit plays out. 
Recently, lawyers for the plaintiffs in the MDL proposed that any compensation settlement cover every municipality and county in the whole country in order to deal with all potential lawsuits at once. Plaintiffs' lawyers see this an incentive for big pharma to settle because an agreement will protect them from further claims; however, it would not deal with actions by state attorney generals such as the lawsuit underway in Oklahoma.
At the time of this writing, Johnson & Johnson strongly denies it bears any responsibility for the opioid epidemic in this country.