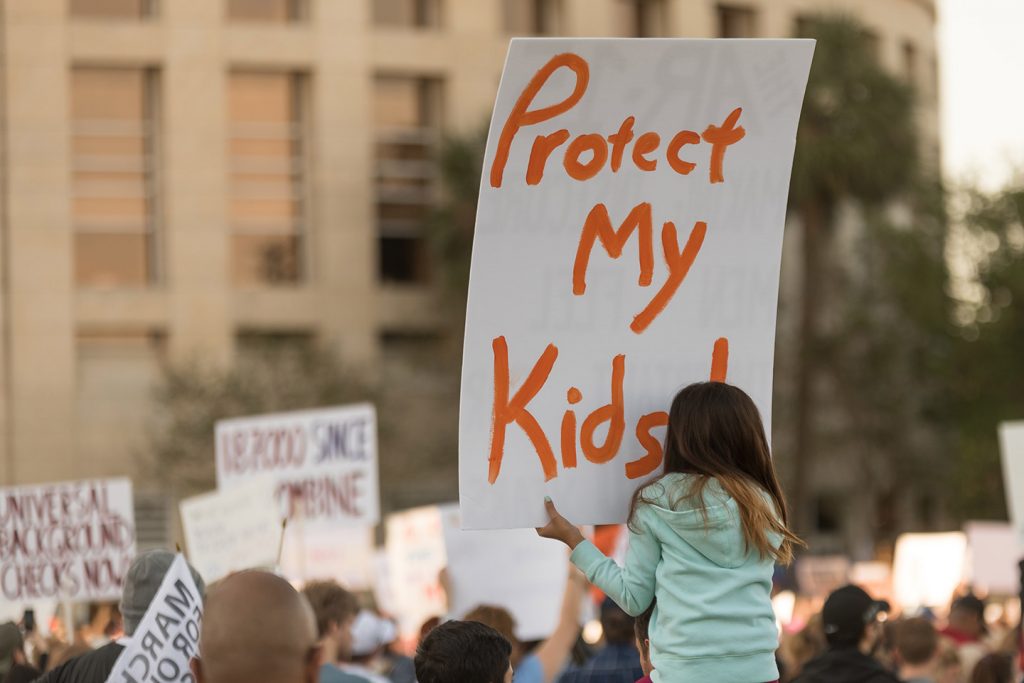 Following the tragic Parkland shooting and the more recent event at a high school in Texas , state and local governments throughout the country have been scrambling to pass gun control legislation. Students in the US have taken to the streets, staging die-ins and other protests to make their voices heard. They seem to want one thing: more gun control laws.
As a response, a number of states have introduced what are known as "red flag" statutes, which allow state-sanctioned authorities to remove guns from people deemed mentally unfit or potentially violent. Vermont, Rhode Island, Maryland, Florida and, most recently, Delaware have all successfully passed such statutes, and dozens of other states are currently considering similar measures.
Delaware
In Delaware, on April 30th, Governor John Carney placed his signature on the red flag bill. State representative, David Bentz, spoke about the bipartisan support of the bill. "We had meetings where the Delaware Coalition Against Gun Violence met with members of the local NRA," he said, continuing, "We sat in a room and talked about the bill. They seemed sincere in their efforts."
Bipartisan
Indeed, these measures have garnered support from both sides of the aisle, even in Florida, where legislators have been reticent on gun control issues. The state legislature, and Governor Rick Scott, had no choice but to pass gun control measures, after countless students descended on Tallahassee, where congressional leaders debated the fate of their own red flag law.
Under the gun, so to speak, politicians in Florida passed laws reining in gun possession. Now, another Florida politician is pushing his own bill in the Senate. Senator Marco Rubio (R.-FL) – together with Republican Senator Bill Nelson and Democratic Senator Jack Reed – has introduced a measure that, if passed, would give financial incentives to states that implement red flag-like policies.
The Senate
Other bipartisan measures have been making their way through Congressional channels. One introduced by Senators Lindsay Graham (R.-SC) and Richard Blumenthal (D.-CT) would make red flag policies the law of the land. This would be cause to celebrate for people throughout the US. Red flag laws have been palatable for conservatives who usually hate all things pertaining to gun control. This has been partially due to the fact that the NRA has been a major backer of the GOP, which has benefitted greatly from contributions from the second amendment organization.
NRA Voices Support
But now, even the NRA has been open to the idea of a federally enforced red flag law. Chris Cox, a spokesperson for the NRA, praised red flag policies as necessary interventions. "We need to stop dangerous people before they act. So, Congress should provide funding for states to adapt risk protection orders," he said.
Preemptive Action
Red flag laws give authorities the ability to request a court order allowing them to remove firearms from a person who has shown signs of violent behavior or who may be mentally unfit to have a gun in the first place. Nikolas Cruz, the Parkland shooter, showed copious signs of mental instability prior to the shooting. Someone even called the FBI, telling the federal agency about Cruz's "gun ownership, desire to kill people, erratic behavior, and disturbing social media posts." The FBI let it be and has admitted it failed to follow the appropriate protocols.
People Speak Out
Adding to the chorus of gun control advocates, the US Conference of Mayors, made up of cities with populations of 30,000 and over, has just announced a bipartisan resolution calling for stricter gun control measures, including one that would raise the legal gun-purchasing age to 21. The resolution proposes a ban on military-grade assault weapons and opposes Trump's suggestion that teachers carry weapons in school.
In Texas, the supposed home of gun-loving Americans, residents have expressed their desire to see more gun control laws on the books. A Quinnipiac poll  found that half the state supports a country-wide ban on assault rifles. Though, it should be noted that there is overwhelming support for an increase in armed security guards in schools – which basically amounts to more guns in school.