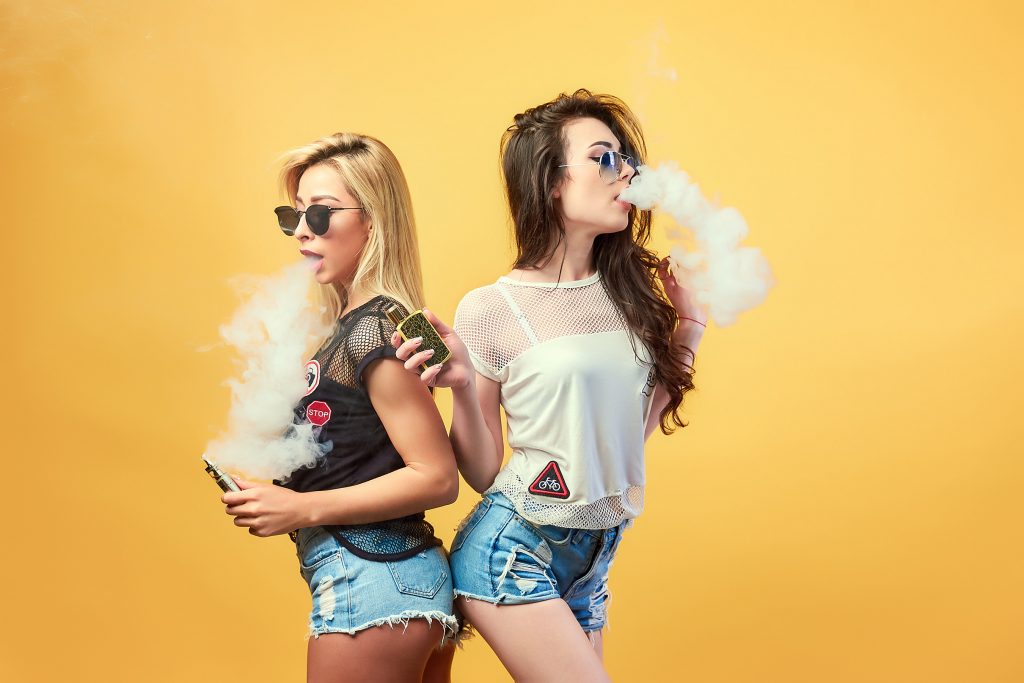 In just five years, vaping has turned from a hot national trend into a roaring wildfire of public health and legal concerns. Keeping track of this on-going story, and looking through the public relations smoke from the vaping companies, isn't always easy. 
This article is a complete up-to-date guide to help you keep track of the latest:
What is Vaping?
Vaping is touted as the safer alternative to cigarettes. It's steadily grown in popularity since about 2007, when e-cigarettes first hit store shelves.
Instead of smoke, users inhale and exhale an aerosol vapor. Many people think its primarily water vapor, but it's actually packed with fine particles containing nicotine and various toxic chemicals. The liquid heated to create the vapor is usually called e-liquid, e-juice, or juice. (Source)
Three different delivery methods are available:
E-cigarette – Similar in shape and size to smokable cigarettes
Vape pens – Larger devices similar to fountain pens
Personal vaporizers or MODS – Large devices with often elaborate designs
Almost all vaping devices have the same basic components:
A mouthpiece
A cartridge, which holds the juice
A heating component, which vaporizes the liquid
A battery, which powers the heating components
Juice ingredients vary by brand. They typically contain nicotine in either a propylene glycol or vegetable glycerin-based liquid. Additionally, most formulas have flavoring, metal and other chemicals.
Note that the liquids don't contain tobacco. However, as we'll detail below, they do contain high levels of nicotine.
Vaping devices can also vape THC and a few types of synthetic drugs such as flakka.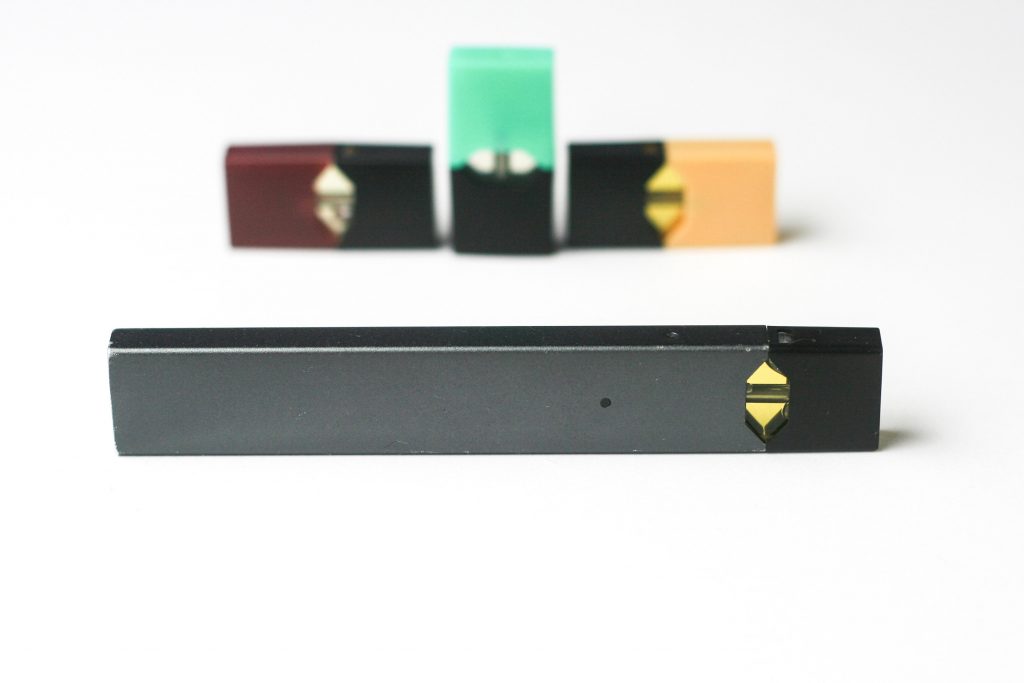 What is Juul?
Juul is a company and brand name. They're the leading manufacturer of vaping devices and liquids in the U.S. Their products account for 72% of industry market share.
When someone refers to a Juul, they're typically talking about the vaping device. Juuls are small, sleek devices similar in shape and size to a USB flash drive.
Vaping with a Juul (or "Juuling") is especially popular among teens. There are few reasons why. First, the devices are small and easily concealed. Teens can carry them around secretly. Many high schools face an on-going problem with students using Juul devices in the bathroom.
Also, the juice is available in a variety of flavors such as Cool Mint, Crème Brulee, Fruit Medley, Cucumber and more. Many younger people who don't enjoy the taste of cigarettes love the fruit and candy flavors found in Juul.
What are the Controversies?
Vaping is in the news frequently for two different, but often interconnected, reasons:
Widespread, severe, and mysterious lung infections appearing across the United States
Controversy and legal issues related to Juul's marketing towards teens and young adults
Vaping Illness Outbreak
On August 23, an unidentified Illinois man died from a serious lung disease linked to vaping. Officials consider it the first vaping-related death in the U.S. However, it wasn't the last. Over 200 people across 46 six states have contracted what's called "vaping illness," with public health officials in at least 10 states reporting deaths.
Although the exact illness is unknown, it resembles a standard inhalation injury. Patients' lungs react as they would to a variety of caustic substances. Early symptoms include coughing, shortness of breath, chest pain, nausea, fatigue or abdominal pain. Experts don't believe the injury is related to an infectious disease.
The Centers for Disease Control has compiled general demographic data about those injured and dead. All reported cases have a history of vaping. Most people affected were men. Roughly 60% of patients were between 18 to 34 years old, while about 16% were under 18. About 75% of those affected reported using THC while about 55% of patients used nicotine.
Details remain imprecise as new cases continue to be reported. In many cases, lung problems from earlier in the year with unknown origins are getting a second look for any connection to this issue.
Over 100 CDC doctors and investigators have been sent across the country to hopefully learn more. Additionally, the FDA and DEA have opened criminal probes into vaping-related illnesses.
The CDC recommends avoiding any juice not recommended by the manufacturer. However, they also urge adults to avoid switching back to traditional cigarettes.
Marketing
Meanwhile, Juul faces additional issues related to their advertising and marketing practices.
Officially, Juul is meant as an aid for adult cigarette smokers eager to quit. However, is that group particularly interested in colorful vaping devices and flavored juices? Critics say no, and that Juul is purposefully targeting teens and young adults.
In August, the U.S Federal Trade Commission launched an investigation into Juul's social media marketing. Specifically, why did they have so many ads with colorful, dynamic backgrounds? Why did the ads feature so many models who appeared to be in their twenties?
Additionally, why is Juul so popular among social media influencers and celebrities on social media? Some use by influencers was likely organic, but how much was paid promotion? According to Juul, they spent less than $10,000 for promotion from 10 influencers all over the age of 30. However, the product's major presence on social media suggests paid promotion might have extended beyond that. (Source)
Currently, the FTC, FDA, and several state attorneys general are investigating Juul's marketing practices as they relate to advertising directed towards minors.
What are the Current Legal Issues?
Juul, and minority stakeholder Altria Group Inc, face a torrent of lawsuits and legal issues.
A combination of individual suits and class action lawsuits have been filed by adult users and parents of teen users. Most relate to vaping-related illnesses. Currently, a federal judge in California is determining whether to combine all the lawsuits into one court, a tactic called multi-district litigation. It's similar to the legal process used against opioid manufacturers.
While most lawsuits relate to addiction, a few relate to more debilitating conditions. A man in Connecticut claims he suffered a stroke due to Juul use. Additionally, a Florida couple alleges Juul use caused their daughter's seizure.
Additionally, an entirely separate set of claims relate to deceptive marketing practices. First, as detailed above, litigants claim products were marketed towards teens and young adults. But other marketing-related lawsuits claim Juul mislead customers about product safety.
Juul ads claim their product is a safer alternative to cigarettes. While vape juice doesn't contain many of the toxins found in cigarettes, it does contain a shockingly high amount of nicotine. Just one flavor cartridge (called a "pod") contains as much nicotine as 20 cigarettes.
What's Next for Juul?
Juul has already undergone major upheaval. A planned $200 billion merger between Altria and Philip Morris International is canceled. Plus, Juul CEO Kevin Burns resigned in late September, replaced by Altria executive K.C. Crosthwaite. Additionally, over 3,900 Juul employees were let go and future hiring slowed.
Keep in mind, all of this company upheaval occurred voluntarily. As lawsuits wind their way through the court system, expect additional changes to the company and possibly even the larger vaping culture. Although vaping will probably continue to be a popular trend, Juul's future as a company might be headed up in smoke.