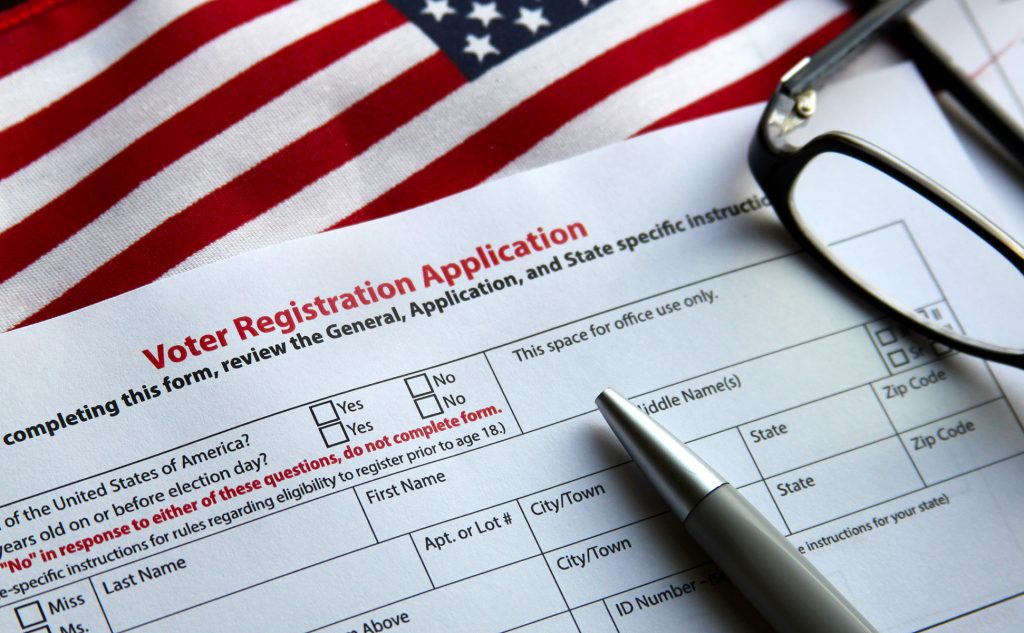 Republican legislators across the country are seemingly engaged in a fierce competition to see who can pass the most restrictive voter suppression measures. Republicans have embraced the idea that the easiest way for them to hold on to power is to make it as difficult as possible for citizens – especially people of color and poorer Americans – to vote.
In the race to find the most innovative voter suppression schemes, Tennessee has seized a commanding lead. The state had the eighth-worst voter turnout in the country in the 2018 midterms, and the Republican majority in the state legislature recently moved to punish groups that run voter registration drives.
The controversial law, passed along a party-line vote by the state's Republican super-majority and signed into law by Republican Governor Bill Lee, imposes criminal penalties on voter registration groups that turn in too many inaccurate or incomplete registration forms. Voting rights groups immediately responded by filing lawsuits aimed at blocking the law, which is scheduled to go into effect in October.
What the Law Does
Tennessee's law contains some provisions that even voting activists believe are more or less reasonable. The law requires groups conducting voter registration drives to register with the state and undergo training to ensure they understand relevant state laws. A number of states, including Colorado and its famously user-friendly voting system, requires registration and training for these groups.
Much more controversial, however, are the criminal penalties included in the Tennessee law.
The law imposes a number of penalties on voter registration groups who run afoul of its various provisions. Voter registration groups can face fines if they submit more than 100 incomplete registration forms in a year – "incomplete," in this case, means missing the date, address, date of birth, declaration of eligibility or signature.
It is now a Class A misdemeanor in the state of Tennessee for a voter registration group to pay workers based on a quota of registration forms submitted, to enroll 100 or more voters without completing state training or to fail to submit registration forms within 10 days of acquiring them.
Secretary of State Tre Hargett and other Tennessee Republicans have argued that the law is a necessary reaction after voter registration groups allegedly flooded county clerks with incomplete or inaccurate forms in the 2018 midterms. Specifically, clerks in Memphis and Nashville received thousands of registration forms on the last day of the registration deadline. The clerks estimated that it cost tens of thousands of dollars to sort through the incomplete forms.
Voter registration groups point out that they often conduct registration drives in parts of the state where residents don't have easy access to the internet and need to fill out paper forms. In addition, many drives take place on busy streets or sidewalks, and potential voters fill out forms while on the way to work or other commitments, which can lead to honest mistakes. They argue that the law will have a chilling effect and discourage further voter registration drives.
Legal Challenges and The Broader Political Context
As expected, voting rights groups immediately moved to challenge the law in court. With help from The Lawyers' Committee For Civil Rights Under Law, the Tennessee NAACP and other groups filed a lawsuit seeking to block the law as soon as it was signed on May 3.
A week later, the ACLU filed another suit in federal court, arguing that the new law violated the 1st and 14th Amendments. The ACLU's lawsuit alleged the law was "vague and overbroad."
Long a Republican stronghold, Tennessee used to be considered a home for moderate, center-right Republicans. And as recently as 2006, Democratic Governor Phil Bredesen won every county in the state during his landslide re-election campaign, while Democrats came within a couple points of winning a high-profile US Senate race.
However, the state has taken a hard right turn since then. Bredesen ran for Senate in the 2018 midterms, but he was wrong-footed by the state's more conservative politics and never found a rhythm in his campaign, falling to the extremely conservative Marsha Blackburn by a comfortable margin. Republicans maintain a stranglehold on the state government and have used their control of the levers of power to push a conservative agenda in the Volunteer State.
Voter suppression laws like the one passed in Tennessee are designed to entrench that power and make it as difficult as possible for Democrats to organize political resistance to the Republican agenda. Tennessee is only the latest front in the country's seemingly never-ending war on voting rights.