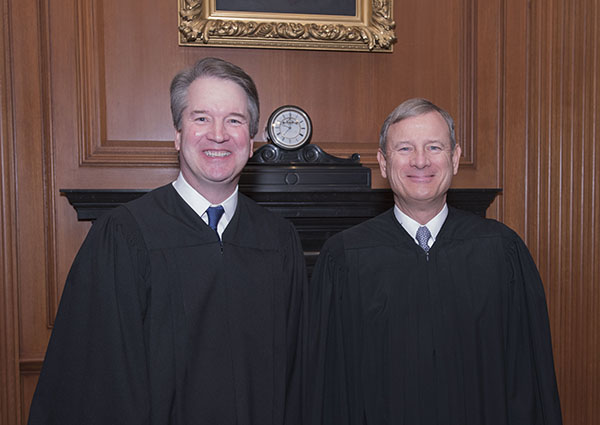 Whether Chief Justice John Roberts joins a 5-4 liberal majority in upholding the landmark 2016 abortion precedent, Whole Woman v. Hellerstedt, reversing the Fifth Circuit Court of Appeals' ruling in June Medical v. Gee, may well decide the future of Roe v. Wade, and Roe's progeny, Casey v Planned Parenthood, a 1992 law ruling that no undue burden shall be placed on a woman seeking an abortion.
The case is likely to be argued during the Court's fall 2019 season and handed down by June 30, 2020, in the thick of the Presidential primary season. If that happens, it could make abortion a highly divisive campaign issue.
The Supreme Court gave abortion advocates an important win on February 7, when Roberts sided with the four liberal justices for the first time in an abortion case to temporarily stay the Fifth Circuit's June Medical decision to shutter abortion clinics in Louisiana in violation of Casey, and require them to upgrade their facilities, "a subterfuge" intended to deny women access to abortion, according to Dahlia Lithwick of Slate.
The Atlantic's Garrett Epps writes " the court's four solid conservatives [Justices Samuel Alito, Clarence Thomas, Neil Gorsuch and Brett Kavanaugh] voted to allow the law to take effect right away, even though it runs contrary to the Court's most recent abortion decision: Whole Woman v Hellerstedt.
Gorsuch and Kavanaugh Break Their Confirmation Pledges
University of California assistant professor, Leah Litman writes in a Washington Post editorial, "The only other breadcrumb for reproductive justice advocates [after Roberts' February 7, decision to stay June Medical] was the bittersweet confirmation that they were right about Justices Neil M. Gorsuch and Brett. M. Kavanaugh after all."
"The two newest justices voted to allow the Louisiana law to go into effect, despite repeatedly pledging in their confirmation hearings to respect existing Supreme Court precedent even when they think it's wrong, "Litman writes.
Kavanaugh alone chose to explain his vote.
He insisted that the court did not have to block the Louisiana law because Louisiana had represented in its brief to the Supreme Court that it would not actually enforce it.
…. "This dissent makes clear how Kavanaugh will bend over backward to limit access to abortion, and allow restrictions on abortion to go into effect," Litman concludes.
Breyer's Majority Decision
Justice Stephen Breyer wrote Whole Woman's majority decision ruling on June 27, 2016.
He said that requiring abortion providers to have admitting privileges at hospitals within 30 miles of the clinics, and also forcing them to make costly upgrades, do not offer medical benefits that are sufficient to justify the "undue burden" the provisions impose.
The day after Justice Breyer's decision, on June 28, 2016, the Supreme Court refused to hear challenges from Wisconsin and Mississippi, where Federal appeals courts had struck down similar laws.
Fifth Circuit Thumbs its Nose
The Fifth Circuit "thumbed its nose" at the [Hellerstedt] ruling, deciding that the burdens imposed by Louisiana's admitting privileges requirement are less severe than the burdens imposed by the same requirement in Texas," Slate's Lithwick writes.
"But a three-judge panel on the 5th U.S. Circuit Court of Appeals determined in September as Brett Kavanaugh was being vetted for the Supreme Court, that even though the two laws were functionally indistinguishable, the Louisiana law could go into effect because the facts in the Louisiana case 'are remarkably different' than those in Texas," Lithwick writes.
"That led the plaintiffs, represented by the Center for Reproductive Rights, to ask the Supreme Court to grant an emergency stay, arguing that if the law went into effect, then only one qualified abortion provider would remain in the state, " Lithwick concludes.
Doctors on Their Lazy Behinds
The Atlantic's Epps writes that the 5th Circuit in essence decided that the trial judge had been wrong about virtually every factual question in the case.
"Whatever might have been the case in Texas, in Louisiana there were hitherto unsuspected benefits to the admitting privileges requirement," Epps writes.
"As for the doctors who hadn't gotten admitting privileges, they were lying. They had, the appeals court decided, 'sat on their hands', and probably really could get admitting privileges somewhere, if they just got off their lazy behind and gave it a real try.
"And even if some of the doctors were eliminated, the others could just work a few more hours a week and everything would be tickety-boo for the women seeking abortions," Epps writes.
The decision was written by Judge Jerry E. Smith, a Ronald Reagan appointee, known for his outrageous behavior, including trying to overturn University of California v. Bakke, a landmark 1978 affirmative rights decision, Epps concludes.
Good Probability for Roe
Roberts voted with the 2016 Conservative minority against Whole Woman, and in other significant decisions, including Shelby County v. Holder, which knocked down two provisions of the 1965 Voting Rights Act.

However, Roberts also staked out more liberal territory, even before Justice Anthony Kennedy's retirement, as when he voted to uphold The Affordable Care Act, both in 2012 and again in 2015.

The Roberts' Court 5-4 majority decision that stayed June Medical on February 7th, provided no written opinion.
However, the temporarily stay imposed suggests that at least four justices see June Medical as an unconstitutional attack on the Whole Woman precedent, and will grant certariori—the four votes necessary—to argue the case.
Furthermore, Roberts recently demonstrated his distaste for partisanship when he called out Donald Trump by saying, "we do not have Obama judges or Trump judges. Bush judges or Clinton judges. Activists who support a woman's right to choose hope that Roberts, known for his well-balanced decisions, will vote to overturn June Medical based on Whole Woman, a Supreme Court precedent decided by his own Court.