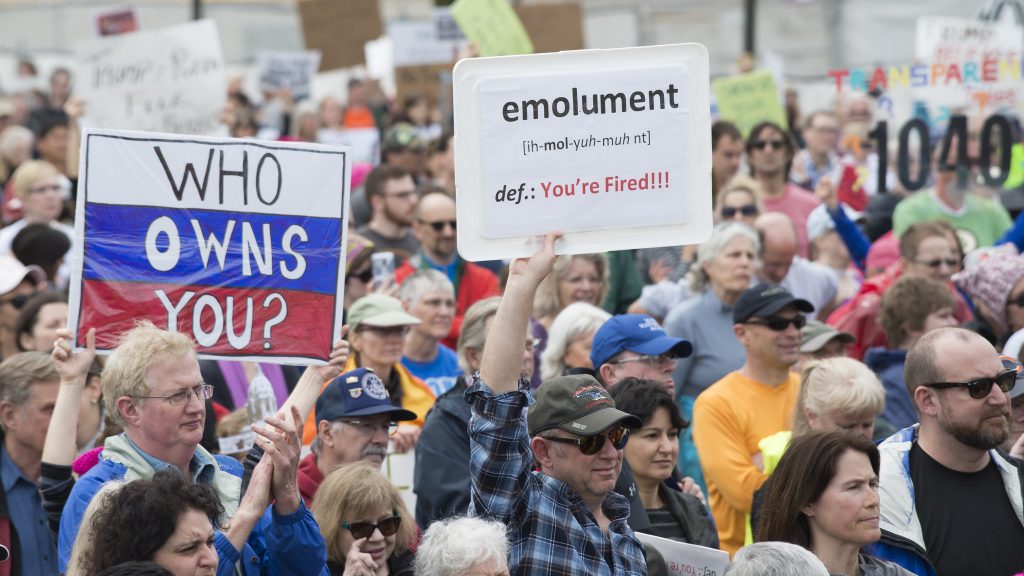 Every week seems to bring a new story of corruption and avarice from the Trump Administration, driven in large part by the President's unprecedented decision to maintain his tangled business interests upon taking office. Last week, for example, sources said that the House Oversight Committee was investigating increased military fuel purchases at a Scottish airport near the President's golf course. 
Regardless of the specific details of each investigation, the White House has responded in the same way: with an utter refusal to cooperate. In response to Congressional subpoenas and lawsuits, the administration has asserted executive privilege, withheld documents and argued that Congress has no right to investigate executive branch wrongdoing. 
The point of this obstruction is clear: the President is attempting to "run out the clock," introducing so many delays into the process that the investigations won't be completed by the time the 2020 election rolls around. Federal courts move slowly, and the Department of Justice has a lot of tools at its disposal when it wants to delay a case.
So far, the President and his lawyers have been successful at delaying and obstructing a staggering range of investigations. But writing in The Daily Beast, David Lurie asks if the President's delay tactics will backfire by producing a string of negative headlines in the middle of the 2020 election.
The Cases Against Donald Trump
As Lurie lays out in his article, there are a number of outstanding investigations into the President, even after Special Counsel Robert Mueller's investigation wrapped up. These include: 
Staggeringly, that's far from an exhaustive list. Trump is not the first President to face scandals and legal controversies. But the extent to which his entire administration has been defined by corruption, self-dealing and scandal is striking.
Will The Chickens Come Home to Roost?
The cold reality of the situation is this: so far, Trump's strategy has worked. He was aided in his approach by the fact that his party controlled Congress in 2017 and 2018, meaning he could effectively burn two years off the calendar before anyone in Congress even considered investigating his administration's conduct.
However, Trump has effectively obstructed and delayed even after Democrats took control of the House of Representatives. Some of this is a reflection of choices Democrats made – for example, Democrats on the Ways and Means Committee waited until summer to even request Trump's tax returns, and, upon being spurned by the Treasury Department, waited months before filing a legal challenge in federal court. 
However, while it is easy (and often both fair and useful) to criticize Democrats' oversight choices, the reality is that the Trump Administration's utter intransigence is extraordinary, and the American system of checks and balances does rely to some extent on a presumption of good faith from the relevant actors. 
Still, Lurie's story raises an intriguing question: has Trump, through his stonewalling, merely pushed back damaging revelations instead of permanently suppressing them? For example, if the Supreme Court fails to back up the Trump Administration's assertion of executive privilege in blocking the testimony of figures like former White House Counsel Don McGahn and Trump loyalist Corey Lewandowksi, those two could find themselves testifying in front of a House committee right in the heart of the 2020 presidential campaign. 
Similarly, if Democrats can manage to win the argument in federal court over Trump's financial records and get their hands on those records before Election Day, Americans could have the opportunity to read damaging information about Trump's business practices before they go to the polls.
But at this point, it's fair to view those hypotheticals with skepticism. Donald Trump has systematically thumbed his nose at all the norms of American government, and while his behavior has made him a weak and unpopular President, the country's existing institutions have mostly proven incapable of checking his greed. Will they rise to the occasion before the 2020 election?